The Ultimate Guitar Game Crosses the Atlantic as Ubisoft Announce Rocksmith Release Date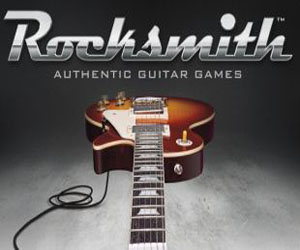 Have you ever wanted to learn to play an instrument? Either to impress a member of the opposite sex or to become the rock star that would earn millions and live the high life…Enough about me. Ubisoft have revealed that the guitar game for authentic guitarists, Rocksmith, will be making it's way to the UK on the 14th September for Xbox 360 and PlayStation 3. A PC/Mac version will be coming at a later date.
Rocksmith is the music game for the purist that isn't too fond of coloured button pushing. Rocksmith is played with a real six string guitar via the magic of the Real Tone Cable. This cable has a jack for the normal input of your electric guitar and a USB end to plug into your console. This transforms the signal from the guitar into one that can be heard through your TV speakers.
Rocksmith is marketed as an easy learning experience for those that want to know how to play the guitar, but also an enjoyable piece of kit for seasoned axe shredders. The game packs over 50 diverse songs, includes a mini game called Guitarcade that helps develop techniques, and something called the riff repeater that allows the player to replay a lick over and over in a song until they have it down. To make the whole experience utterly authentic, the official guitar of Rocksmith is the Epiphone Les Paul. Gibson is renowned the world over as the rock guitar and for Rocksmith to be packing an Epiphone Les Paul junior in the Rocksmith bundle makes it all seem a bit more genuine.
Henry Juszkiewicz, Chairman and CEO of Gibson said, "Gibson is proud to have the Epiphone brand as the guitar of choice for the revolutionary Rocksmith game…Rocksmith provides a new and exciting opportunity for fans of all musical abilities to pursue their dreams—and actually learn how to play. We look forward to supporting Rocksmith as it is unleashed around the world."
With a music game, it's all about the tracks. As we said, there are over 50 to choose from in the final game. Here's a few tasters though;
·         Blur – Song 2
·         David Bowie – Rebel Rebel
·         Eric Clapton – Run Back To Your Side
·         Franz Ferdinand – Take Me Out
·         Incubus – I Miss You 
·         Interpol – Slow Hands
·         Lenny Kravitz – Are You Gonna Go My Way
·         Lynyrd Skynyrd – Sweet Home Alabama
·         Muse – Unnatural Selection
·         Nirvana – In Bloom
·         Pixies – Where Is My Mind?
·         Queens Of The Stone Age – Go With The Flow
·         Radiohead – High And Dry
·         The Rolling Stones – (I Can't Get No) Satisfaction
·         The White Stripes – Icky Thump
·         Velvet Revolver – Slither
The range in the music is fantastic to see. All from very diverse eras and subgenres of rock. So, if you finally want to learn the guitar, maybe this is your chance.

[nggallery id=807]