Activision to Reveal New Call of Duty on May 1st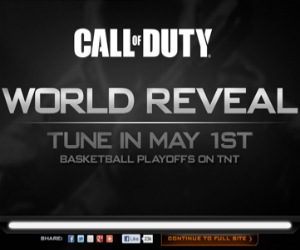 You may remember just last week we reported on the possibility of Activision revealing a new Call of Duty, well we now have official confirmation that a reveal is coming.
The game will make its debut during the NBA Playoffs, so anyone outside the US will probably have to look towards the games official site to catch their first glance. It is widely speculated that the game will be Black Ops 2, a sequel to the record breaking 2010 hit from Treyarch.
Fans probably won't learn much from the reveal trailer, the first teasers for Black Ops 1 and Modern Warfare 3 didn't show any gameplay, so it's unlikely anything will change this year. We'll probably have to wait until E3 before Activision truly open up about this new entry.
With Modern Warfare 3 reportedly failing to keep up with the sales figures set by the first Black Ops, is Black Ops 2 just what the franchise needs? Do fans want something more, like a new engine, gameplay mechanics or even a total overhaul?
2012's main Call of Duty title will be revealed May 1st.