Call of Duty Content Collection #1 Hits Sony Entertainment Network Today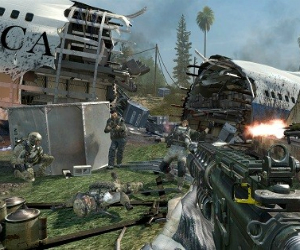 The first 6 pieces of DLC for Call of Duty: Modern Warfare 3 are now available for to all PlayStation 3 players, via the Content Collection 1 pack. The content had previously been exclusive to premium members of Call of Duty Elite.
The first content collection contains four new multiplayer maps, and for the first time in Call of Duty history, 2 new Spec Ops missions:
Black Ice (Spec Ops): Players will use snowmobiles to enter a frozen diamond mine, where they will take out the facility for good.
Negotiator (Spec Ops): India is the backdrop for a hostage extraction, players must negotiate a maze of surface streets to ensure the safety of rescued civilians.
Liberation: Set in NYC's Central Park, this sprawling map is perfect for long-range sniper and LMG kills.
Piazza: An idyllic seaside village, where blind corners and a complex warren of branching pathways pose danger at every turn.
Overwatch: A compact, sky-high battle arena set in a construction site atop a NYC office tower.
Black Box: Overlooking the downed Air Force One, players will need all their skill to stay alive in this war zone.
So finally all PlayStation 3 players can have access to the first set of maps for MW3, but with new maps already out on Xbox 360 will you be picking them up? What do you think of Activisions staggered release schedule for MW3 content.
Call of Duty: Modern Warfare 3 Content Collection #1 is available to download right now on SEN for £9.99/$15.