The History of Nintendo, Vol.2 – Now Available From Pix'n Love Publishing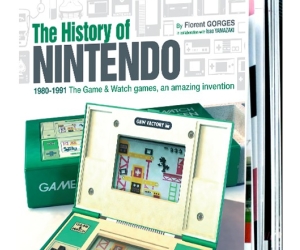 Think you know all there is to know about the oldest videogame company around? How's your knowledge of Game & Watches? Time for a history lesson, whippersnappers!
Before last Christmas, I wrote The Last-Minute Christmas Gamer Gift Guide. One of my suggested gifts was a hefty tome, named The History of Nintendo Vol.1. This colourful wodge of glossy paper and ink left an impression on me, thanks to it's insightful information and fantastic images.
So it gives me great satisfaction to spread the word that Vol.2 is available right now from Pix'n Love Publishing, an independant, French-based company that specialise in books on the subject of videogames and their history.
Starting last year, they've expanded with a UK-based branch that have begun to translate and distribute some of the 25 French-language books released by Pix'n Love over the past five years. The History of Nintendo Vol.2 is the fifth book to be translated – This time focusing on Nintendo's Game & Watch range of LCD games. We're talking 1500+ pictures and reviews of every Game & Watch game ever released. If this book is as good as Vol.1, then those interested in Nintendo's history will be very pleased. I certainly look forward to grabbing a copy.
All of Pin'n Love's English-language books can be located on their International site, with most of them retailing at £24.99 (with free delivery within the UK). While that seems a lot of money, note that these are 200+ page bibles of full-colour information, that are essential for any retro gamer's bookshelf.
Pix'n Love Publishing are currently working on an English-language History of Sonic book, so follow Pix'n Love's UK branch on Twitter @pixnloveuk and watch this space!