The Last Minute Christmas Gamer Gift Guide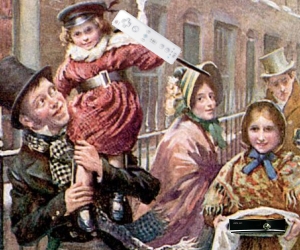 Looking for that special something for the gamer in your life, but aren't sure what cool stuff to get? Allow GodisaGeek to be your guide to the best game-related gifts you can pickup; without resorting to a midnight petrol station shopping session.We're all feeling rather festive here at GodisaGeek, we've finished all of our work for the year (providing you with all the quality content you expect from us) and we're looking forward to the season of gifts, grub and games.
But there's some of you who probably aren't as relaxed as us at this time of year. You are sweating on getting that perfect present, but time is short and gift ideas are lacking. But that's OK, we're here; we wouldn't let you down in your hour of need. Why not take a look at some quality stocking fillers for the gamer in all of us.
Sweets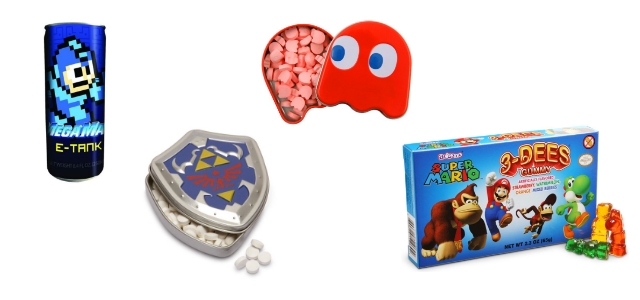 Everyone loves sweets at Christmas; whether it be traditional boxes of chocolate, or the candy canes lovingly hung from the Christmas tree. Why not shower your gamer with unhealthy levels of sugar, in the form of their favourite game characters?
While these products aren't readily available here in the UK, there are tons of examples of gamefood coming from the USA & Japan – Luckily, there are retailers specialising in importing these tasty treats, such as CyberCandy (who have a few brick-and-mortar shops around the UK, as well as an online store).
As for my recommendations, you could do worse than the snacks featured in the image above (from Left to Right):
Mega Man E-Tank Energy Drink: Sure, it's essentially a can of generic energy drink, but it's got MEGA MAN on the tin. Liver failure and 8-bit nostalgia in a can. Also available: Street Fighter "Dragon Punch" (get it?), "Sonic Boom" and Resident Evil T-Virus Antidote energy drinks.
Zelda Mints: There's nothing less heroic than a breath that smells of all those Red Potions and Lon Lon Milks that Link has been quaffing for the past decade. Get some of these mints with the Hyrulian seal of approval!
Pac-Man Ghost Sours: Tiny ghost-shaped sour sweets that look cute and taste great. Plus, they come in a cool tin shaped like your favourite Pac-Man ghost.
Super Mario 3-Dees Gummy: I love these things; they're surprisingly detailed (and delicious) gummy Mario characters. Really tasty, but a shame to eat things that look so good!
There are plenty more gaming snacks where these came from, well worth checking out your local import food emporium.
Action Figures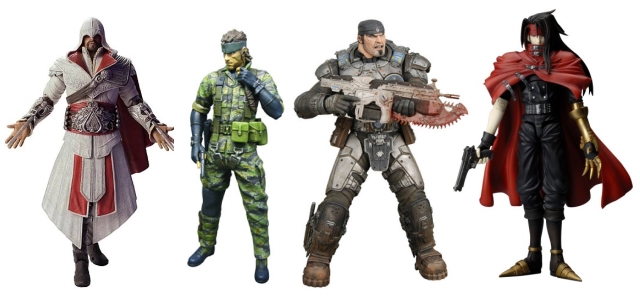 There has been a real surge in action figures relating to video games and there are some really cool ones out there at the moment. Your best bet for these kind of goods are your local comic book store, but there are plenty of online retailers that can hook you up with these awesome looking figurines.
Some of the best game series to make the jump to plastic form, include (From Left to Right):
Assassin's Creed: Courtesy of Play Arts, these action figures are some gorgeous looking examples of Assassin goodness, that would look good gracing any display case/desk/shelf.
Metal Gear Solid: There's something so awesome about the character/mech designs for the Metal Gear series – a clash of Western macho-ness and Japanese elegance, they translate well as action figures. Each game in the series has its own collection of figurines, suitable for the Snake fan in all of us.
Gears of War: A popular choice for many, this collection of 'roided up badasses and horrific alien beasts, make for a deliciously appropriate combination for an action figure.
Final Fantasy: There are so many Final Fantasy games out there and there are even more collectables to be purchased. No matter what game in the series if your favourite (especially if it's VII), you will find your perfect desk ornament here.
Books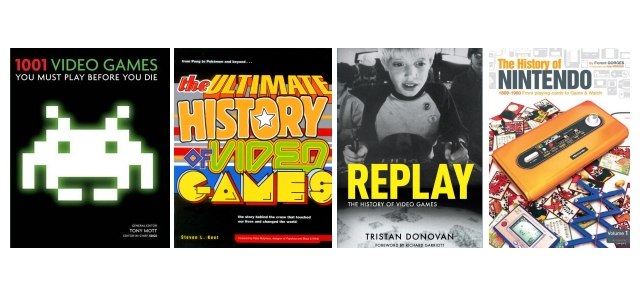 The great thing about the games industry, is that there are so many stories that can be captured in print. You can write about the best/worst games out there, detail the making of a particular game/series, or you could chronicle this industry's entire history. Why not put down the controller pad for a little while, and read a book…about games!
Here are some of my recommended reading materials (From Left to Right):
1001 Video Games You Must Play Before You Die – Tony Mott: There have been millions of games released over the past few decades, so there are probably some real gems that you've missed. Allow this book to be your guide on what games are absolutely essential experience. A brilliant encyclopedia of games, with titles that even I had missed out on.
The Ultimate History of Video Games – Steven L. Kent: There are tons of books about the history of videogames, and this is one of the best. Although there is a lack of information about the European contribution to the industry, there is detailed accounts of every major event in gaming history; from the birth of Pong, to the rise, fall, then rise of SEGA. Essential reading for anyone interested in what came before.
Replay: The History of Video Games – Tristan Donovan: Another brilliant account of gaming history, that serves as a wonderful accompaniment to the aforementioned Ultimate History of Video Games, especially as it contains a more Euro-centric account of events. Incredibly insightful and well written.
The History of Nintendo – Vol. 1 – Florent Gorges: No other organisation in gaming has as much history as Nintendo does. The company has been around for over a century, their collective fingers in the pies of many different industries. This brilliant, full-colour book, published and distributed by Pix'n Love Publishing is an exhaustive pictoral history of Nintendo's pre-Famicom/NES days; from their humble beginnings as a Hanafuda card maker, to their toy making days and beyond. Every turn of the page greets you with something you didn't know about the Japanese giants. Look out for many more books in their "The History of" series in 2012!
So that's it, plenty of gift ideas for both you and your gaming friends/partners/colleagues. Why not share your Christmas list with us, on our forums?