Skylanders Fly on to iOS with Cloud Patrol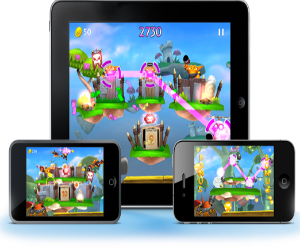 Activision are bringing the Skylanders to iOS with new arcade shooting gallery, Skylanders Cloud Patrol.
If you have young children it's likely you're already familiar with Skylanders Spyro's Adventure, the incredibly popular console title released last year that involves collecting real life toys to use in-game. If your children have long since tired of the pricey Skylanders game you so lovingly bought them, you may be wondering if all that money spent on toys was worth it.
Well the new 69p iOS game allows all 30+ Skylander toys to be unlocked in-game, by entering the code bundled in with each figure. Of course new players can unlock them through playing the game or by paying extra, but this new game can extend the life of the toys purchased for the console game.
The game itself is set in a new region of Skylands, it lets players take command of a magnificent sky-ship and use their favourite Skylander to dispatch the baddies using touch gestures, magic items and more. It also features Game Centre leaderboards, achievements and a 3D character viewer.
[nggallery id=844]
Skylanders Cloud Patrol is available right now, for iPad, iPhone and iPod Touch via the app store.