Ubisoft Announce Anno 2070 Deep Ocean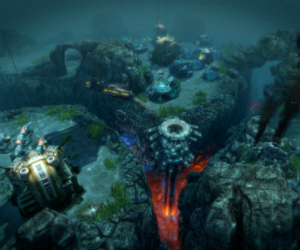 Ubisoft have revealed that Anno 2070 will be receiving a rather large add-on in the form of Anno 2070: Deep Ocean.
The popular real-time strategy game was released late last year, a city builder with a twist Anno 2070 takes place in guessed it, 2070. The worlds water levels have risen and climate change has rendered much of the land uninhabitable.
The new features that can be found in Deep Ocean are as follows:
New civilization level – For the first time in the history of the Anno series an add-on brings a new civilization level:  the Tech faction is expanded by the Genius population class.
A deeper game experience – The new population class grants access to the new Tech Monument, new corresponding production chains and consumption goods. Furthermore this new class features new vehicles and new items allowing players to develop industries, strengthen economies and exploit new resources.
The add-on will also come with additional content and challenges:
Acquire enemy territories without using military force through the "Hostile Takeover" feature
Resolve energy problems by building the new underwater geothermal power plant
Optimize energy supply through "Energy transfer" between islands.
Face a new dangerous disaster: The Tsunami
Unlock new rewards for each faction's career ladder
Take advantage of new underwater trading routes
Experience over 150 new challenging quests
Unlock over 30 new achievements
Access to player comparison via new leaderboards
Are you a fan of Anno 2070, will you be picking up this add-on?
Anno 2070: Deep Ocean will be available on PC sometime this Autumn.