Jetpack Joyride in Public Beta on Facebook
There were many great games last year, and one of those great games was a simple iOS game called Jetpack Joyride. It was universally praised and rightfully so. After getting over 25 million downloads and a 90% Metacritic average, Australian developer Halfbrick are taking their game to Facebook. The game is in a public beta phase at the minute and is pretty much the same game as was on iOS.
Phil Larsen, who is the chief marketing officer at Halfbrick said, "With Jetpack Joyride's success on the iOS platform, it only made sense for us to bring Barry and his mischievousness to the entire Facebook community…The active and casual nature of Facebook gaming allows us to do even more with the beloved franchise and focus on the game's addictive competitive elements and endless replayability."
The Facebook version of the game will be free to play, however you will be able to purchase add ons for Barry Steakfries through microtransactions and achievements in the game. So, if you want some coin magnets, x-ray specs or score boosting bombs, you'll have to pony up some cash…or just be really good at the game. Also, just like the iOS game, you'll be able to save shots of your playthrough and post them to your Facebook wall. This is so you can gloat to your friends about how amazing you are, and how terrible they are.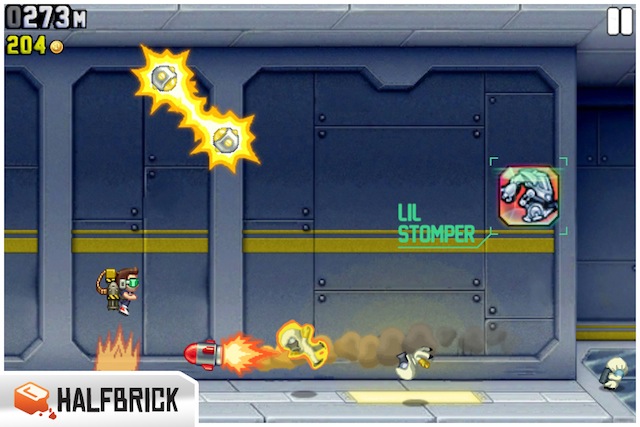 If you've never played the game in its original guise before, you should check out the Facebook beta and see what its like. But if you've never played it before, we're not friends…I'll accept you back into my circle of trust once you play it…'cause we both know you will.