Ubisoft Details Far Cry 3 Insane Edition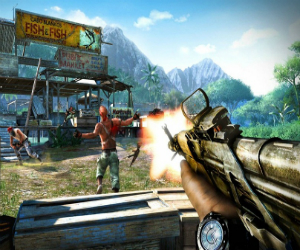 A big name release just wouldn't be the same without a collector's edition to go with it, right? With that in mind, Ubisoft has released details of the Insane Edition of upcoming shooter sequel Far Cry 3.
Due for release September 7th in the UK, Far Cry 3's action sees us return to the tropical landscape of the series 2004 original. So what can you expect to receive in this Insane Edition?
This "Insane Edition" includes:
A 12cm Vaas Wahine with bobble head!
Monkey Business – Discover Hurk, a new memorable character and quest giver, and his four unique missions (1 hour additional gameplay)
The Lost Expeditions -Two suspenseful action packed missions totaling over 40 minutes of additional gameplay and an exclusive weapon (The Japanese gun)
The Hunter Pack – The M700 hunting rifle and its three collector's skins.
The Warrior Pack – A handcrafted dagger and two exclusive tribal tattoos.
The Predator Pack – Four exclusive rare predators and a multiplayer bow.
An 'Insanity Guide' containing hints and tips to help you survive the island
Extra missions, unique weaponry, multiplayer content, a handy guide and a bobble head. We like the sound of that! Check out the Insane Edition trailer below, and stay tuned to GodisaGeek for all the latest on Far Cry 3.