The Godcast: Season 4 Episode 22 – Pre-E3 Special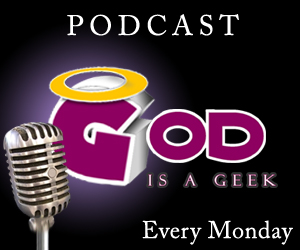 Episode 22 comes early as the gang get together to talk about E3 2012, tying in nicely with our E3 2012 prediction articles.
Joining Adam, Calvin and Lee this time around is our newest member of staff, Ryan Sandrey. Joe also returns from last week and Jonny Lewis makes his Godcast debut to share his love for Nintendo.
If you want to follow any of the guys on Twitter, it's pretty easy to do so. Adam is @JebusF, Lee is @WhiteSpyderZero, Joe is @Joco182, Calvin is @CR, Ryan is @FoolishUK and Jonny is @Saint__Jonny.
In the last episode we opened up a competition to win a copy of Ninja Gaiden 3 and the winner is announced on this episode.
Running Order
Microsoft
Sony
Nintendo
Third Parties
Other Games
Please remember to rate us in iTunes too (it only takes a few seconds!), as that makes us very happy.
Subscribe to the GodisaGeek podcast via iTunes or Feedburner, or download the MP3 file (right click, then save).