Lara Croft Actress named for New Tomb Raider Game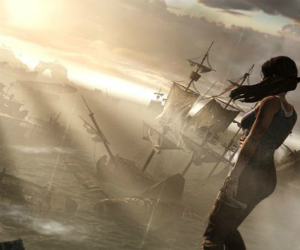 The new Tomb Raider game that is set for a release early next year has been making big waves at game shows. It first arrived with a spectacular CGI demo last year, before wowing audiences at E3 2012 with impressive survival mechanics and emotional gameplay – which has also caused quite some controversy in the mainstream press with its portrayal of attempted sexual assault.
And now – to tie-in with the re-birth of the franchise with a younger, less experienced Lara – we have been presented with the new voice of Lara Croft: English-born actress Camilla Luddington. The actress is best known for her role as Kate Middleton in the film William & Kate – so she is making the leap from real-life royalty to gaming royalty. She has also featured in Californication and True Blood, but it could be said that she is a relative unknown. And to put the rubber stamp on the appointment, Camilla will be heading to Comic-Con this year and in turn will be taking part in the fan panels in San Diego, along with the development team, who will be showing off the game.
Camilla said of the role: "It's an honour… People love Lara and there is such a huge fan base that you don't want to disappoint. You hope people can embrace the change and re-imagining of her and at the end of the day just have fun playing the game." 
See an image of the new lady taking on the mantle of Lara Croft below:
[nggallery id=950]
Tomb Raider is slated for release on March 5th 2013 for PlayStation 3, Xbox 360 and PC.