Playable Demo Now Available for Point & Click title Deponia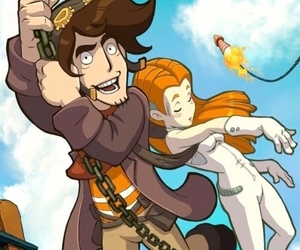 Daedalic Entertainment and Lace Mamba Global wants gamers around the world to sample the wacky yet beautiful world they have created for their new Adventure Game Deponia. With the release of a playable English-Language demo, the team are looking to entice those who may not have been seduced by the lush hand-drawn graphics or the comedy-cum love story of the game.
The press release sells the demo in a similar way as that a Travel Agent might: "Thinking about your next holiday destination? How about a trip to the junkyard? A planet full of trash? That's right – this is where Daedalic Entertainment's new PC adventure gaming masterpiece will be taking you – to the wonderful trash planet of Deponia."
The Demo weighs in at around 700 MB for download, and it will incorporate the first chapter of the game – allowing gamers to sample somewhere between 30 and 45 minutes of gameplay from the title. Players will get a taste of how hopeless our protagonist Rufus is in love, and just how much help he will need.
The demo can be found at the following link: Deponia Playable Demo
Lace Mamba Global will release Deponia on PC in the United Kingdom, Ireland, Australia, New Zealand, the Benelux countries and Portugal on June 29th, 2012. The retail edition (recommended retail price: £29.99) includes the full game as well as a poster and the original soundtrack on CD.