Assassin's Creed: The Fall – Comic, Now Available On iPad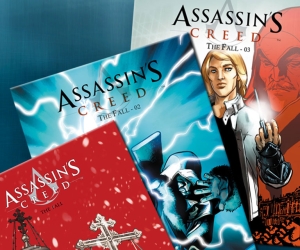 Dive into Assassin's Creed's rich extended universe by reading the latest comic, wherever you go.
The concept behind the Assassin's Creed series, the idea that a machine can be used to delve into the lives of our ancestors, is one that offers thousands of narrative possibilities – History Is Our Playground, as Ubisoft's mantra goes.
Which is why it is no surprise to see the series make the jump to other non-game entertainment mediums, such as comics. The Fall is the first series of comics to delve into other Assassin adventures.
Focusing on events in both a modern day setting, and 19th Century Russia, The Fall follows Nikolai Orelov, an Assassin looking to retrieve a powerful relic from the ever-present Templars. Meanwhile in the present, a young man by the name of Daniel Cross begins to experience visions of the past; visions that could change the future.
All three books in the series have now been converted to a new iPad app, with the books starting at 69p each. This app allows the comics to be read in a variety of ways, from different way of navigation, to the choice to view the comic in colour of black & white. See below for a gallery of images from the app, which can be purchased from the iTunes Store.
[nggallery id=971]