Tekken Tag Tournament 2 Hands-On Preview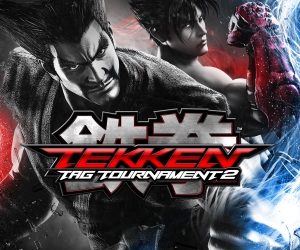 Katsuhiro Harada stands up in a cramped cinema in London's Shoreditch, lights dimmed, presentation primed and ready, wearing his hair gelled up straighter than Paul Phoenix and sunglasses darker than Lee Chaolan's alter-ego Violet. There is no way he can see three inches past his own face. He opens with a joke about fellow developer Hideo Baba (producer on the Tales of Graces series). Baba needs a date, apparently, and will take whatever he can get.
The showmanship is welcome and it livens up the handful of journalists in the room, but it makes you think that Harada-San isn't taking this quite as seriously as he used to. In the new beat-em-up world order, where 2D and custom combos are king and Tekken and Virtua Fighter have been knocked from their perch, shouldn't Harada be a little bit worried? Not his style, man.
Harada loves Tekken Tag Tournament 2 and the Tekken franchise. When asked which character he was most pleased to see back in the fifty strong line-up of characters in TTT2 he couldn't say for sure, explaining that "My characters are like my children. Some are maybe not so popular, like Ganryu and such, but all are important to me". Like Ono-san at Capcom, Harada is a showman, one whose moments of public extravagance are built on a foundation of belief and passion in the game he is promoting.
And what he is promoting might be the biggest Tekken game ever. Seventeen years after the first Tekken and twelve years after the first Tag Tournament, Harada's Tekken Tag 2 looks to be a compendium of every Tekken game that has gone before it. As stated, the game's official roster comprises fifty fighters from the series, with new names being announced all the time. Harada was proud to announce that Alex, Forrest Law, P. Jack and Tiger Jackson would be making appearances in TTT2. All have been reworked with new techniques and juggles and, as a credit to the developer's attention to detail, neither Jack, Forrest or Tiger are re-skins of similar characters already announced. Intriguingly, Harada hinted that more names will be announced in the coming weeks and that players will be surprised at how these fighters have evolved. He highlighted the already playable Kunimitsu as one players should look at to assess how far the team has brought the characters forward.
It's not just all the characters who have been brought together on one disc, it is the gameplay mechanics as well. TTT2 obviously boasts 2v2 fights, but also gives players the option to go 1v1 and 1v2. The latter option gives the player with one character an increased health bar to balance off the tag team's capacity for extended juggles. The juggle possibilities just keep on bouncing up, with TTT2 complicating the existing bound attack and breakable scenery juggles with binding tag launchers (accessible by pressing right punch and tag simultaneously) that can really punish the opposition.
Harada admits that, with the approach of always building on what has gone before, Tekken is a complex animal, one that can be tricky for beginners but particularly intermediate players who want to play online against friends and experts. "A lot of people believe that they can just mash buttons and enjoy the game, but to be able to compete with another person there is a lot that you have to learn" he explains. This challenge was the impetus to create one of TTT2's standout new features; Fight Lab.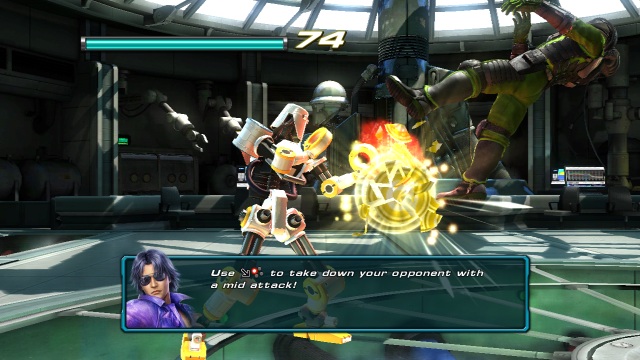 The Fight Lab is where players of every level will, in Harada's view, go to learn the game. Beginners who don't want to trudge through a bland tutorial will find Fight Lab to be a humorous, story-driven set of mini-games that illustrate the basic Tekken strategies in a way that Harada hopes will be "fun and entertaining". He hopes advanced players will be entertained by the same mini-games due to their unorthodoxy. Advanced players will also have the opportunity to create their own Combot in the Fight Lab, creating a custom move-set with which they can challenge other players.
Having spent some time with Fight Lab it is clear that beginners and intermediates will be well served by the mode, which introduced the core Tekken concepts in a way that is unique in the fighting genre. Explaining to a beginner the importance of following up juggles and the power of a bound combination could mean the difference between winning and losing online. It also lowers the barriers between the initiated and the expert in a way that should make online a more competitive and fun place for every player. Whether experts will get as much from the mode remains to be seen, though it appears Harada's outlook might be unduly optimistic. It is difficult to see how a side-stepping mini-game, however challenging, would grab an expert's attention over the chance to go online and fight against a rival and the custom Combots might serve to do little other than unbalance fights. And upsetting the balance would be an awful thing to do, because despite an ever swelling  roster of characters, the fighting is as strong as ever. The most exciting thing about Tag 2 is how vulnerable the player always feels. Health bars are short, and with only one character needing to be KO'd to lose a round, the player is always one juggle away from a heavy defeat. Frequent, skilled tagging combined with a competent defence is the key in these matches and it gives the fighting a nip-and-tuck quality that Tekken owns completely.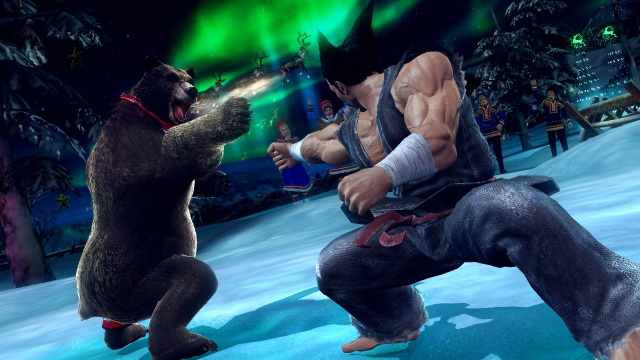 The characters are huge on screen, colourful and ripe with detail. A nasty case of the jaggies can spoil the show from time to time but when four characters are on screen dishing out or taking huge damage, the game really looks superb. It looks varied too, because it isn't just the character roster that is increasing, the fight venue roster is going up as well. Some of the venues are Tekken classics whereas some, like the Snoop Dogg stage (complete with rapper on throne) are, in Harada's words, "trying to appeal to a wider audience". In a genre that has gone from dying to borderline overcrowded, trying to bring in new players is no bad things. Whether an animated Snoop will be able to this is a different question. Probably not one with a positive answer.
So, despite the rockstar showmanship, Harada-san remains humble, proud of "the wide variety of player types we can appeal to in Tag 2". Without experiencing the online play and being able to get hands on all fifty of the game's characters it will be difficult to truly judge how TTT2 will stack up against the 2D brigade of fighters that have rejuvenated the genre since Tekken Tag's last appearance. However, Tekken fans should be optimistic. Even a short playthrough shows that Tag 2 is the complete Tekken experience, an encyclopaedia not only of every character but also every mechanic from the series' history.
Most reassuring of all? The man at the helm, with the big hair and the big personality, is the the series' biggest fan. And he wants it to be the best.
Tekken Tag Tournament 2 is set for release on Xbox 360 and PlayStation 3 in September 2012.
[nggallery id=963]