Akai Katana Added To Xbox 360 Games On Demand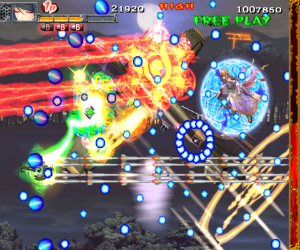 Take a one-way trip to Bullet Hell (and back)…
Rising Star Games, Inc. Just sent across some wonderful news for schmup fans, as the fantastic Akai Katana will be making its way to the Xbox 360 Games on Demand roster as a downloadable title.
Our bullet dodging expert, Sean Smith gave the game a glowing 9/10 review back in May, stating "Yet another superb effort from Cave, this is soundly their finest horizontal scroller since they teamed up with Capcom back in the day, and one which comes with a completely brilliant sense of risk/reward…"
If that endorsement wasn't a good enough reason for you to pick this game up, let me remind you that Akai Katana is a beautifully hand-drawn shooter, containing three modes of gameplay: Original (Arcade), Slash and Climax, with 2-player local coop as standard. For the hardcore out there, you also have access to Online Leaderboards and Replays.
Now there's no excuse for not picking this up!