Sharkoon X-Tatic Plus Headset Review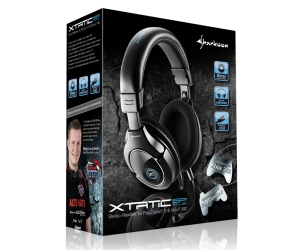 Product: X-Tatic Plus Headset
Manufacturer: Sharkoon
Price: £53.90
When it comes to audio setups for gaming, my world changed a few years ago, when I made the jump to a digital 5.1 surround sound setup (thanks to a set of Logitech Z-5500 speakers). No longer could I go back to playing games with the lifeless sound quality that came from my Bravia television's internal speakers.
However, sometimes, it is more appropriate to listen to things with headphones (because non-gamers rarely like to hear the soundtrack to Beautiful Katamari at 2AM in the morning). While you can get headphones that offer you a 5.1 or even a 7.1 experience, these products can be pretty expensive and, for some, a simple Stereo headset is all that is required. Enter Sharkoon, with their X-Tatic SP Plus headset.
While many headsets are designed to be used with one device (Xbox 360, PS3 or PC), the X-Tatic SP Plus can be used with pretty much any device you can listen to audio on. This is all thanks to various different cables and adapters that are supplied when purchasing the headset, which is simply fantastic for those with multiple systems.
In terms of design, these are simply a no-frills pair of headphones, with no aesthetic bells or whistles; which is never a bad thing, as far as I'm concerned. Upon placing the headset on my head, I was surprised at how comfortable these cans were. I usually shy away from full-size headphones, preferring in-ear plugs for audio enjoyment, but the X-Tatic SP Plus is lightweight and I soon forgot I was wearing them.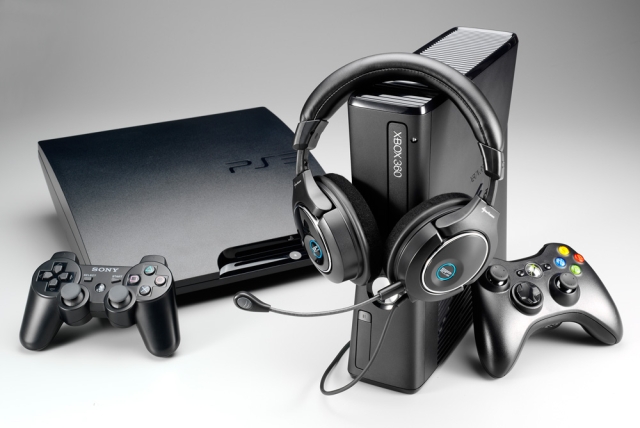 In terms of connecting the headphones to a chosen device, there are a lot of different cables in the box and they provide a lot of choice in terms of connectivity. The headphones can be used as is for basic headphone functionality for devices with a standard headphone jack, but for further connectivity options you must plug the headphone into the included amplifier cable – This will then connect to your device via two standard RCA connections and a USB cable (which also powers the amplifier). It's all very simple, however I did have difficulty connecting the standalone headphones to my Mac, as the cable was far too short (and it doesn't appear that you can use the amplifier cable).
Also provided are two different types of microphone that plug directly into the headphones; a standard flexible gaming microphone, and a smaller mini-mic. Both are perfectly functional for communicating while gaming, although I preferred the larger gaming microphone. It's worth noting that to use the mic on the Xbox 360, you must connect your Xbox 360 controller to the amplifier via another cable, and make sure the amp is switched to "Xbox" voice mode, via a little switch. The PlayStation 3 gets a headset connection via USB, with the amp needing to be switched to "PS3" mode.
Now the headset is connected up, we move onto the overall sound quality, and the X-Tatic Plus doesn't disappoint in this regard. The beauty of headphones is the ability to pick out the subtlest of sounds and it just so happens that I have been playing a lot of Metal Gear Solid 3: Snake Eater HD (Xbox 360), which is a superb game to test these cans on. The game's subtle environmental sounds feel even more realistic, and the headphone's amplifier is pretty powerful; I didn't need to increase the volume more than the lowest settings.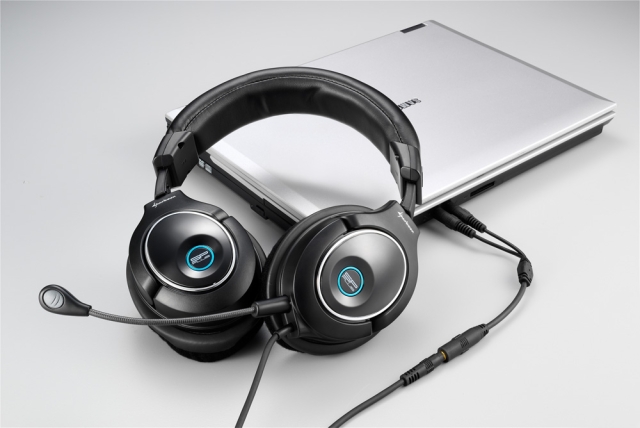 Keeping to the Solid Snake theme, I used the brilliant Metal Gear Solid 4: Guns of the Patriots to test the PS3 side of things. What makes this game a good test is that there is an option for certain in-game codec conversations to be played through a bluetooth or USB headset. The X-Tatic Plus has separate volume levels for game output and headset output, so it was easy for me to adjust these volume levels to my personal liking.
I then tried out the standalone headphones on my iPod, PS Vita and 3DS XL. While using the standard headphone jack it is not possible to use the amplifier, which is a shame as it is instantly clear that the amplified sound adds so much to the audio quality. With the amplifier connected, everything sounds bassier and and more powerful, without the sound distorting. Without the amplifier, it just doesn't sound as good.
One thing that I did notice, was that when I was using these headphones with the Xbox 360, if I had the controller plugged into the console via a Play & Charge kit, there was a very noticeable buzzing sound; something to bear in mind, although I am unable to test if that is an issue that is isolated to the X-Tatic Plus, or if other gaming headphones have the same issue.
Features:
Gaming stereo headset
Developed for PlayStation® 3 and Xbox® 360
Compatible with PC, MP3 players and smartphones*
Two high quality 40 mm speakers (Neodym magnet drivers)
In-line amplifier for premium sound output on the console
Easy connection via RCA plug to console or TV
Separate volume control for voice communication and microphone mute for PlayStation® 3 and Xbox® 360
Amplifier powered over the console's USB interface
Flexibly adjustable and interchangeable chat microphone
Cable length: ~400 cm
Direct connection to smartphone or MP3 players via 3.5 mm stereo plug (4-pin)
PC/Notebook connection over 3.5 mm adapter cable
Cable length: 135 cm when connecting to PC and notebook, 110 cm when connecting with smartphones and MP3 players
Specifications (Headphones):
Diameter: 40 mm
Impedance: 32 Ω
Sensitivity: 120 dB +/- 3 dB at 1 KHz
Frequency response: 20 Hz – 20 kHz
Power output: 30 mW (0.98 V)
Connectors: 1x 4-pin. 3.5 mm plug (TRSS)
Specifications (gaming microphone):
Diameter: 6 x 5 mm (L x B)
Directivity: omni-directional
Sensitivity: -58 dB +/- 2 dB
Impedance: 2.2 kΩ
Frequency response: 70 Hz – 10 kHz
Specifications (Mini Microphone):
Diameter: 6 x 2.7 mm (L x B)
Directivity: omni-directional
Sensitivity: -58 dB +/- 3 dB
Impedance: 2.2 kΩ
Frequency response: 50 Hz – 10 kHz
Package contents:
Gaming Stereo Headset X-Tatic SP Plus
Flexibly adjustable gaming microphone (~16 cm)
Compact mini microphone (~5 cm)
Amplifier cable for gaming consoles (3.5 mm plug > 2x RCA+1x USB)
PC adapter cable (3.5 mm plug > 2x 3.5 mm jack)
Smartphone adapter
Chat cable for Xbox® 360 (1x 3.5 mm jack > 1x 2.5 mm stereo jack)
Manual flyer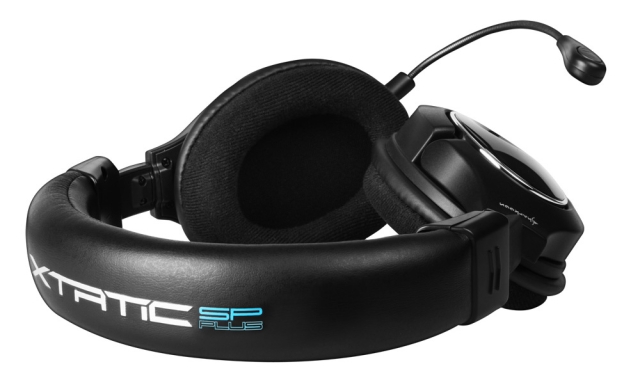 VERDICT: The X-Tatic Plus is a solid, well designed headset that provides good volume levels and great sound quality in a very comfortable form. It's versatility in terms of multiple device compatibility makes it an easy product to recommend for those who want a pair of stereo headphones for their gaming sessions. I now prefer this headset for online communications, as opposed to the official wireless headsets for Xbox 360 & PlayStation 3 too.