Uncharted 3 GOTY Edition Coming This September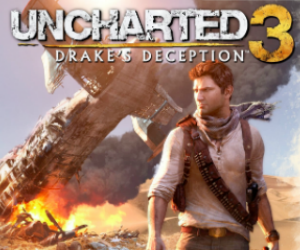 The Indiana Jones inspired Nathan Drake brought gamers many thrills throughout his trilogy and our own Adam adored the third installment. However, if you've yet to pick up one of PlayStation 3's biggest games of 2011, you're in luck 'cause Sony has announced a Game of The Year Edition, that's on its way.
As outlined on PlayStation Blog, the game is set to release in Europe on 19th September, Naughty Dog's critically acclaimed title will come with a few add-ons, this time 'round. As well as the in-game single player and multiplayer modes, there is some multiplayer DLC in the package that has been handpicked by the team behind Drake's Deception.
The details of the specially picked multiplayer DLC for Uncharted 3: Drake's Deception are below.
Classic Skins Packs 1 – 3
25 different skins for Uncharted 3 multiplayer, including fan favourites such as Nathan Drake as he appears in the original Drake's Fortune, or Winter Drake as he appears in Tibet during Uncharted 2: Among Thieves.
Flashback Map Packs 1 and 2
Includes eight maps that bring reworked, improved environments from Uncharted: Drake's Fortune and Uncharted 2: Among Thieves into UC3′s multiplayer.
Drake's Deception Map Pack
Four new multiplayer maps: The Graveyard, Old Quarter, London Streets, and Oasis – each incorporating its own dynamic events. 
Fort Co-Op Adventure
Additional content for the co-op adventure online game mode, Fort takes players on a journey through the fortress first seen in Uncharted: Drake's Fortune to seek out Nathan Drake.
Co-Op Shade Survival
Take on wave after wave of some of the toughest enemies from the series – the fiery Djinn. This co-op game mode provides a sturdy multiplayer challenge with handsome rewards.
Doughnut Skin Pack
If you've ever wondered what Sully would look like if he really let himself go, this is the skin pack for you. Five characters from the franchise are depicted in larger-than-life form…
Uncharted 3: Drake's Deception Game of The Year Edition is set to release for PlayStation 3 on 19th September