505 Games Drop Block-Building "Terraria Coming to Consoles" Megaton!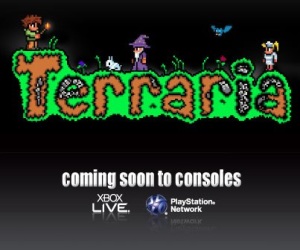 Back in my day, it was all about Lego, or – if you were from a poor background – the inferior Duplo brand. Building things out of real blocks – deviating wildly from the instruction manual to create something unique – that did not look anything like the vehicle or building on the box.
Nowadays, instead of having a Tupperware container full of random plastic bricks, kids have things like Minecraft and Terraria – indie games with a building bent that have taken the PC gaming world by storm. Minecraft arrived on Xbox 360 earlier this year – and it was only a matter of time before Re-Logic Studio's Terraria rocked up on the consoles.
We are pleased to announce that the 2011 game, which has over 1.6 million users – will be available for Xbox Live and PlayStation Network in "early 2013". This is a huge coup for 505 Games, and something that creator Andrew Spinks is rightfully proud and excited about – as he revealed:
I can't say how excited I am to finally have Terraria come to Xbox 360 and PlayStation3! To see it come so far is a complete shock, especially after such humble beginnings. It's always been my dream to have as many people as possible know and enjoy Terraria as much as I have, and this is another big step in that direction! It's been awesome working with 505 Games, and I can't wait for everyone to see the additional features that they've been able to bring to this new edition of the game.
We will of course keep you updated on any developments to this huge story, but in the meantime you can head over to the following sites to have a gander at what they are up to: