Spartacus: Legends Coming Soon to XBLA, PSN and Steam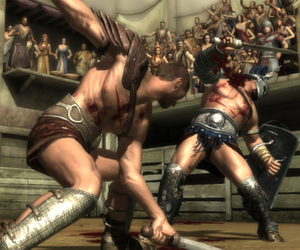 Are you a fan of gratuitous swearing, thinly-disguised Australian accents, wanton nudity, gruesome barbarity and John Hannah shouting "arse!" an awful lot? If so, there's a good chance you've seen Starz' late-night action series, Spartacus: Blood & Sand, or its prequel or sequel seasons.
In all fairness, despite it featuring a ridiculous number of people being stabbed with swords of both steel and pork, it actually boasts a surprisingly coherent-yet-twist-filled plot and some great performances – most notably from Andy Whitfield, the original Spartacus actor who sadly died of non-hodgkins lymphoma late last year.
Given that the cast is composed mostly of half-naked mentalists chopping at each other with various bladed weapons, it seems a perfect match for a fighting game – and so Ubisoft have done the math and delivered with Spartacus: Legends, a free-to-play arena-based brawler set during the events of Blood & Sand.
New Spartacus Liam McIntyre (himself a keen gamer) will reprise his role from the show, and since most of the characters will feature we can expect other cast members to follow.
The gameplay will centre around training a group of gladiators in one of eight disciplines (dual wielding, sword & board, net and trident, etc…), customising their equipmemt and taking them to the heights of brutal glory in the arena. But don't get too attached: their deaths are permanent – one slip up against a better opponent and all your hard work will be undone in a spray of blood and viscera. Nice.
Check out the announcement trailer below for a taste of what to expect.
Spartacus Legends is expected to launch on XBLA, PSN and Steam in early 2013.