Football Manager 2013 Review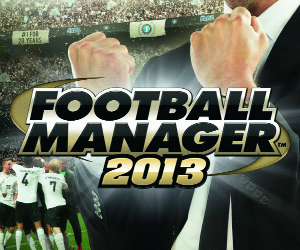 Game: Football Manager 2013
Developer: Sports Interactive
Publisher: SEGA
Available on: Windows PC Only
It's easy to criticise a game series that arrives in yearly instalments, as they're seen as somewhat of a lazy attempt at getting more cash from consumers. It's an unfair judgement, but a widespread one. Football Manager 2013 proves this, there are so many new additions, from the littlest of tweaks to the inclusion of entire new modes, that Sports Interactive cannot be accused of sitting back on their laurels in the pursuit of money. However, are the additions enough to make the casual gamer abandon last year's stellar edition to take up the reins of 2013?
Before I go into depth about the new modes included in Football Manager 2013, it's important to note that all the usual changes are in place for the 'main' mode of the game, updated squads, finances and competition information up to a few weeks ago are there. Of course, this close to release means that there are a few out of date entries in the game, such as managers still being at jobs they have since resigned from (Paul Jewell, for example, is still manager of Ipswich in the game, but Steve Kean has left Blackburn). The inevitable updates to come will rectify this, and the Steam integration that once again returns for this year will help keep the game as up to date as possible.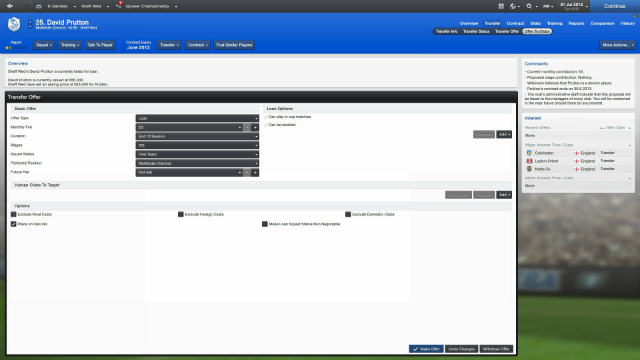 Outside of the expected changes, there are several areas that are noticeably different this time, with varying degrees of success. When in the realm of contracts, both for managers and for players, there are a number of tweaks in order to make sure there's a greater degree of freedom in persuading people to move to your club. For managers, this is especially noticeable when it comes to being offered, or applying for, new jobs. If you're a manager who favours lovely fluid football, with short passes and fast wingers overlapping, like Brendan Rodgers was noted for at Swansea City, then a club that wants that type of football is a perfect fit for you. If a team offers you a job, they'll make demands about a philosophy required, if you don't fit that philosophy, and try to negotiate and fail, you'll be at risk of missing out on the post. It's a move in the right direction for realism, but may irritate some fans who are used to being one of those managers who can take any job they like after a season or two of unprecedented success.
With regards to loaning players out, and indeed loaning them in, there have been a number of changes implemented in order to provide much more flexibility for both parties. After all, in today's footballing climate, there are a number of different loan types that are fairly unique and not always represented in games (Sheffield Wednesday currently, for example, have wonder-kid Ross Barkley on loan on a recurring week by week basis from Everton). In other ways, there are loans that often don't work out, people being recalled due to not being played enough for the Parent Club's needs. The latter example is now included with the loan system, if you specify a player needs to play first team football, in a certain position, you can  now select this in your negotiations in Football Manager 2013. It provides greater freedom and allows you to get what you want out of sending a player out on loan, much like a normal manager would. If you're after a player, and can't afford the wage contribution, you can use surplus transfer budget to pay a monthly fee in order to grease the wheels and push through a deal without having to adjust budgets. It's simple things, but they serve to make the main experience of Football Manager 2013 an improvement on its predecessors, on the whole.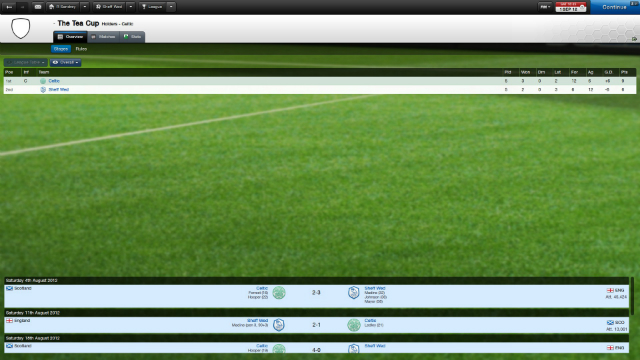 In this vein, two things were criticised with last year's instalment, the sometimes confusing and cluttered U.I. and the rigidity of training despite some of the improvements we'd seen. In both cases, Football Manager 2013 rectifies the concerns of the fanbase with some sleek and extensive changes. On the training side, there's now a greater degree of depth in deciding what to train for on a week-by-week basis. If you have a week with several games in it at once, you may indeed deem it necessary to adjust the intensity to lower the risk of injuries. On the U.I side of things, a sleek, black theme with several things hidden away in easy to use and fairly obvious menus creates an overall feeling that Football Manager 2013 is an improvement on the overwhelming menu system that, although personally I found fine and easy to adjust to, some people simply weren't keen on.
However, the biggest problem with the Football Manager series that you'll hear from many people isn't a bad thing at all, if you take one perspective on it; it's the amount of time it consumes to play it. While people are content to throw thousands of hours at the series, and enjoy every minute, there's a large group of people who, due to work and other commitments, simply can't devote the time. In a similar vein, there's people who've not played the series since it was Championship Manager and find the changes overwhelming or confusing. Killing two birds with one deftly aimed stone, Football Manager Classic mode has been introduced to bring in those who find themselves alienated by the complexity or time required for the main game, but still want to manage their favourite team to glory.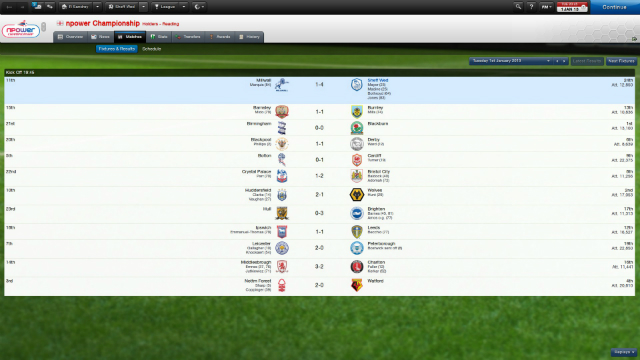 Comprising of three main prongs, Football Manager Classic provides a fully featured sibling to the main game in a way that doesn't feel like it's compromising too much. If you simply want to manage a team in a career, you can start a career in Classic mode, not worry too much about the selection of database sizes and leagues, and just start managing. Once you do, you're greeted with a slightly tweaked U.I that is reminiscent of the classic Championship Manager skins of the early 2000's, just with slight changes to bring it up to date. Within this, you can complete your career as you wish, making signings and having as much, or as little, control about the operations of your club as you wish. However, once you get to Match Day, you can take one of two routes, you can watch the game unfold in the improved match engine in Football Manager 2013, with new physics and new animations providing an even better experience (and a graphically underwhelming match view, but it's completely inconsequential, you're not playing the game so you can marvel at a photo-realistic Ronaldo, you're doing it to manage that Ronaldo to make sure he bags 40 goals a season), or you can take the quicker route via the instant result button. Once you've selected a matchplan (if you just need points, you can play for the draw and so on), the game will be simulated and the result shown. If you're simply involving yourself in the day-to-day running of the club, you can do that for every game, or you can do it to skip inconsequential games such as friendlies or cup games to save precious minutes of your time. It's up to you, but it's a nice feature to have, even if you're a purist who disagrees with not having total control from the sidelines on match day. However, one of the downsides to this for some people are the inclusion of in-game purchases. If you want to 'cheat', there are two ways to unlock them, by reaching criteria in game, or spending £1 on unlocking a certain cheat. If you're unlikely to play this game mode much, then there's not really much to complain about, but if you're someone who wants to abolish transfer windows or remove financial restrictions, you can probably justify the spending to yourself.
If you're a purist, after more of a challenge, or someone who is even more pressed for time, you can take up one of the challenges included with the game. Borrowed from the game's mobile iteration Football Manager Handheld, these challenges take various forms, from saving a team who is bottom of the league from relegation to keeping up a club's unbeaten streak in the league. With leaderboards allowing you to compare yourself with friends, and the challenges taking part in the Classic engine, meaning you can move through them at quick speed if you so desire, the challenges are a nice introduction to the series that could do with some freshness to really inspire people to upgrade to the new game. Even if you're a player who is completely uninterested in the Classic mode's take on careers, the challenges should persuade you to take an interest in it.  The only problem is there's only four challenges at the moment, but that's not to say there will not be more added at a later date.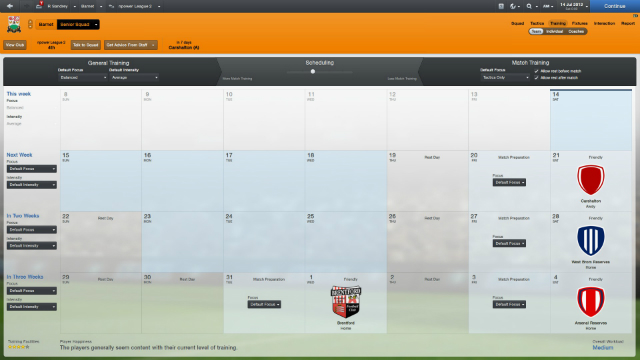 The final feature of Classic mode is part of a more encompassing change to the game's online and network modes. With  Steam now underpinning the online aspects, there's a more stable feel to the already enjoyable multiplayer that was present in previous games. Adding to this is the inclusion of the aforementioned leaderboards, and the online element has been updated in line with what you'd expect. However, if you want to take your career mode team (or classic mode team) against your friends, you could never do that. With Versus mode, now you can. Allowing you to create a pre-season league, knockout cup or head-to-head league, you can now challenge your friends to prove that their league-winning team is better than yours. In this vein, for this review, I played a head-to-head league (called The Tea Cup) against another person reviewing the game. With myself selecting Sheffield Wednesday and my opponent selecting Celtic, by the end of the five games, we'd seen everything, a comeback for the Owls to win 3-2 after losing 2-0, to Celtic coming back from two losses to win the league. It was frantic, frustrating and most of all, fun. That's all the series has needed to have for a few years now, and it finally does.
VERDICT: So, is Football Manager 2013 worth the price of admission? If you're a fan of the series, and have been addicted to it for many years, you'll find yourself taking one of two positions; the changes to the main game are too few to warrant the update from 2012, or the addition of Classic Mode and changes to online have made it almost a necessity. Such is the beauty of opinion, but the first group would be missing out. Football Manager 2013, with the tweaks to the main mode as well as the addition of more accessibility and longevity through the Classic and Challenge modes, is probably the best iteration to date. Simply brilliant, it's just a shame there's a few underlying problems, such as lack of challenges and the real possibility that die-hard fans may feel alienated by the focus on luring back those who have less time that prevent it from being a milestone in football management simulation. It's damn close, though.