Kinect Nat Geo TV: America the Wild Review
Game: Kinect Nat Geo TV: America the Wild
Developer: Relentless Software
Publisher: Microsoft Studios
Available on: Kinect for Xbox 360
Microsoft have long been developing the capabilities of their Xbox 360 console – and the Xbox LIVE service – in order to provide a broader, more complete, entertainment destination. Developments such as the library of TV stations and social media appliances is one change, Kinect a more obvious second, but the latest development, indeed one that many companies have been dabbling in for years without ever really mastering it, is interactive television. On Xbox, that translates as Kinect TV.
Kinect TV is being marketed primarily towards the younger market, and the first wave includes two big hitters from that realm; Sesame Street and National Geographic. Whereas the Jim Henson puppet-based TV skews a younger audience, Nat Geo Wild tries to cover a slightly wider age range. Can this kind of prompted interactivity within a pre-recorded show really capture the imaginations of our children?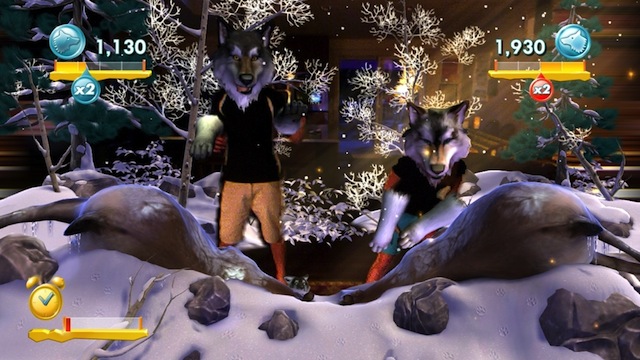 The Kinect Nat Geo TV: America the Wild package is made up of eight interactive episodes, each covering a different North American wild animal, hosted ably by the young and enthusiastic – but thoroughly likeable host – Casey Anderson. It also provides buyers with a single-use code that gives access to a one year Nat Geo LIVE subscription, so you can watch National Geographic shows, direct from their regular TV channel on-demand as well. Those episodes are a nice bonus, and will be a boon for avid learners, but the meat of the package is the interactive ones.
Each instalment is around forty-five minutes long – which is quite a long time to try and keep a child interested – and features high definition, newly-recorded footage. Along the way, you will be asked to take part in several activities. One of these is photography. Casey will ask you to yell snap, to capture particularly interesting pieces of footage.  A caption on-screen will also explain what you need to do, and this is a fairly simple mechanic. Players are given quite a large window and several attempts to take each photo, so it is difficult to fail this exercise.
The next interactivity is the Sidetracks. Represented by a series of animal tracks running across the screen, the player must yell tracks to activate it. Each Sidetrack is around five or ten minutes long, and provides further footage that relates to the main video, but adds further knowledge. These Sidetracks also include questions to answer. Usually one or two at a time, the player is given a multiple choice question, related to the information they have just been told, and must raise their left or right hand to choose which answer they believe is correct. This all works very smoothly, and is a good way of testing you have been paying attention, but they aren't too hard that children will struggle too much.
The last type of interactivity is the animal activities. These are the fun, and silly, part of the game. They appear at regular intervals, normally three times in each episode, and can by played by one or two players, via drop in, drop out Kinect detection. In these games, you are shown on-screen in your room, but the game super-imposes a natural environment around the edges of the screen, and depending on the animal subject of the episode you are playing, you will have that animals head and paws projected over you on-screen. This looks very funny, but it works very well and Kinect tracks your movements one-to-one, so you can pose, dance, or do whatever you like; all whilst looking like a strange half human, half-animal. Most of the mini games involve fighting off predators by swiping or punching, eating food by moving your mouth to munch things, or grabbing objects with your paws. The games are all animal-specific, and are intended to teach particular actions which that animal would do in the wild, all of which were already taught to you in the preceding video. They are actually quite a lot of fun, and use a lot of energy, so are a good form of exercise.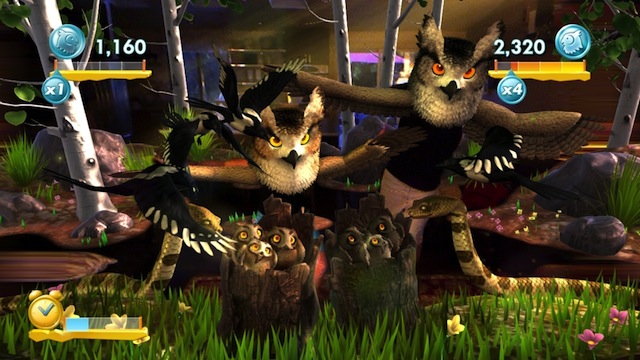 The only other game mode that hasn't been mentioned is the game party, which is simply a way for one or two players to take part solely in the mini-games, one after another, trying to beat your best scores. These will then be applied to worldwide leaderboards, and you will be able to compare your best scores with friends and foes alike. Indeed, each episode is also scored, and you can achieve bronze, silver, gold or platinum, depending on taking good photos, answering questions correctly and acting like an animal successfully. This is a good way of measuring your progress, if you play episode to episode and make improvements, and measures how much your child is actually getting involved in the game.
VERDICT: This package does really seem like a great example of interactive TV. The filmed footage isn't dumbed down or cheesy, it is high-quality and takes its audience seriously. The camera activity may be a bit of fluff, but the questions are well judged, and start easy, but get slightly harder, offering a good learning curve. They test your attentiveness and retention of information well, as you work through an episode. Then the animal activities offer a way to expend some energy and have some fun; something that makes learning more attractive, and can help involve those who are normally less willing to learn.
It is even better that these can be played by two people, so two friends or and parent and child can actually take part in these together. The package is really successful as a whole, and the subject matter is something that most children will have an interest in. Sesame Street Kinect may have looked very simple, but that is aimed at pre-schoolers. Nat Geo is aimed around the 7-11 year range, and as such, is more intelligent and more taxing. Kinect TV has certainly been a pleasant surprise so far, with cleverly-chosen content and good partner companies. Nat Geo will get players involved and keep them interested, but still manage to teach them. What more could you ask for from an educational game?