Latest Trailer For Deadly Premonition: The Directors Cut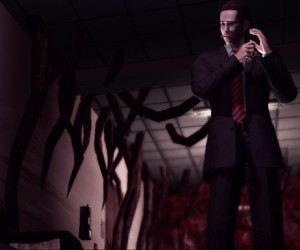 To coincide with the sweet laden, pumpkin carving excuse to dress up like an idiot holiday that is Hallowe'en, Rising Star Games has released a teaser trailer for its upcoming Deadly Premonition re-release.
Deadly Premonition was something of a surprise hit when it released back in 2010. It's open world styled game that lets gamers explore the town of Greenvale, with some puzzle elements and of course, plenty of survival horror thrown in for good measure.
Rising Star Games remembers that success well, so it has decided to release the game again in 'Directors Cut' form exclusively on PS3. The director's cut will feature an additional story chapter from the game's director Hidetaka Suehiro, a reworked control system for improved combat and DLC that will expand the original plot.
You can check out the trailer, which I have to say reveals very little, below. One for fans of the original only, I feel.