Magicka: Dungeons & Daemons Live Stream Today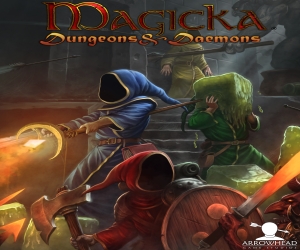 Paradox Interactive have announced that today there will be a live stream of Magicka's brand new DLC, Dungeons & Daemons.
Apparently the mages in Magicka are quite self-centered, so they wanted Paradox Interactive to film them while they kill all evil and friendly forces alike. Probably there will be more than one dead bodies lying about by the end of it, but hey, that's what Magicka is all about, right? Let's hope that the spells won't work through the cameras though as these guys don't always get on top of what they're doing and no one would want non-magical staff to get hurt.
The live stream will start at 7pm (UK time) today, October 15. Magicka fans will be able to chat with Dan Eriksson, Game Designer at Pieces Interactive and John Hargelid, Magicka Producer at Paradox Interactive and ask them about anything. Yes, anything. 🙂
To get a front row seat, visit the official Paradox Interactive TwitchTV channel today at 7pm. http://www.twitch.tv/paradoxinteractive
[nggallery id=1095]