Of Orcs and Men Launch Trailer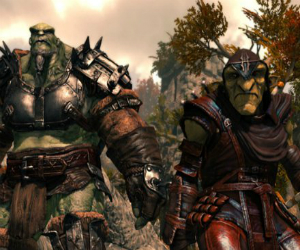 Focus Home Interactive have released the launch trailer for Spider's fantasy action adventure Of Orcs and Men, due for release on October 12th.
The story revolves around the unlikely yet efficient partnership of Arkail the brutish Orc soldier and sneaky Goblin assassin Styx, on a quest to slay the human Emperor and free their people from slavery and oppression.
Of Orcs and Men will see you hack and slash your way through hordes of nasty humans using the diverse strengths of the two leads to crush, stomp, snipe and generally eviscerate your enemy. Underlining all the head-cleaving, there's a great buddy-buddy humour between Arkail and Styx reminiscent of Bethesda's Hunted: The Demon' Forge.
Check out the launch trailer below.
Of Orcs and Men is developed by Cyanide and Spiders, and published by Focus Home Interactive. It is scheduled for a global launch on October 12th.