We Sing 80s Review
Game: We Sing 80s
Developer: Nordic Games
Publisher: Nordic Games
Available On: Nintendo Wii Only
I was a child of the Eighties, but thanks to my Dad, I was given a solid grounding in music. He helped me avoid a lot of the drivel that was in the charts during my childhood, instead schooling me with stuff like early Prince, Depeche Mode, or even the psychedelia and driving riffs of the 60s and 70s when I sat listening to his Cream, Skynyrd and Led Zep records. By the time I was old enough to buy my own records, I was already a bit of a musical snob, preferring the more left-field stuff than the Top of the Pops hit parade. Readers may be interested to learn that the first record I ever bought was Pacific State by 808 State, and I still have that 7" single to this day.
That isn't to say that the 80s, looked back on now, didn't produce plenty of great pop music. Revisiting the decade now is a common way for folk of a certain age to let their hair down. Ten years ago there was a horrifying 1970-disco-themed nightclub in Southampton. Now there is a 1980s themed affair, cunningly named Reflex. Like The Reflex. Geddit?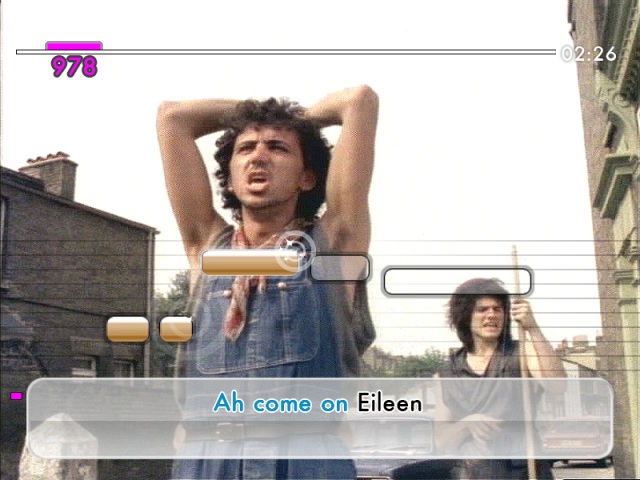 Just as they have tried to do with numerous other genres of music, Nordic Games have decided that it is time for their excellent karaoke series to look at the decade that gave us the rise of Nintendo, the terrifying prospect of imminent nuclear disaster, and MTV. Instead of focusing on the rise of college rock, new wave, hardcore punk and grunge, We Sing 80s of course homes in on the cheesy chart fare that nowadays tempt the denizens of my town to flock to the aforementioned club. There are some nice little surprises, however.
30 tracks feature on the disc, with some excellent selections that are genuinely fun to sing, and of course the usual standard definition music videos to go along with them. Anyone who doesn't feel the need to dance and sing along with Lionel Richie's magnificent All Night Long (All Night) deserves to be tasered in the face. Duran Duran were always a far better band than people give them credit for, and their stone cold classic "Rio" is another great choice. Scanning the list of songs it soon becomes clear that there are literally no bad tunes on the disc. Even when plumbing the depths of Stock Aitken and Waterman's annoying back catalogue, there is no denying that "I Should Be So Lucky" is as classic a pop single than has ever been released. The Human League's "Don't You Want Me", "Pass the Dutchie", "I Want To Break Free", "Come On Eileen" – everyone knows these songs.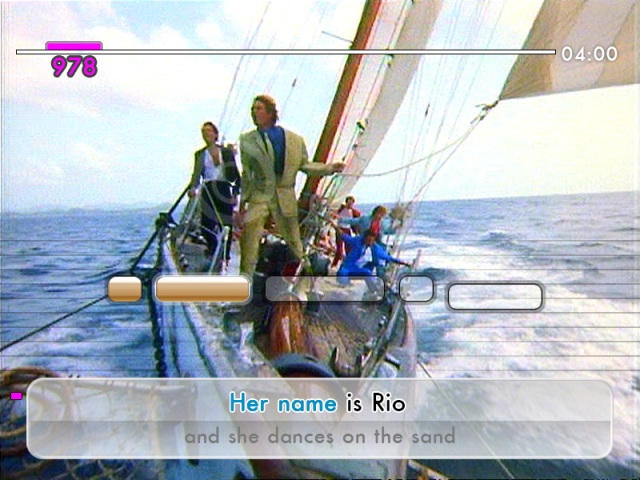 It is perhaps the best selection of tunes assembled in a We Sing title to date, and as usual they all work tremendously well within the fundamentally sound We Sing game engine – which delivers multiplayer modes, voice coaching, replays and multiplayer modes, just like the games that have come before it. I don't need to explore the game itself here too deeply, as I have already reviewed numerous We Sing discs before and it's a Karaoke game at heart. Just let me tell you – the game works, it works extremely well, and it is the best singing game for the Wii, hands down. Nothing has changed, and there isn't much new – but when a game works this well, why tinker?
VERDICT: Yet again you have the option to pick up a package with the excellent Logitech microphones, or simply treat the game as an expansion disc. At around £20 for such a killer selection of 80s karaoke tunes, this is a party in a box for those that enjoy singing games with their mates, and comes thoroughly recommended.