Survival Horror, AfterFall: InSanity, Heading for Retail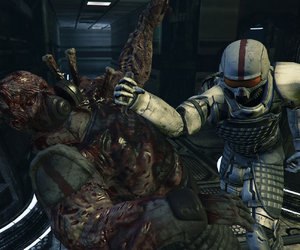 Lace Mamba Global have announced that post-apocalyptic survival horror, AfterFall: InSanity, will soon be available to purchase as a boxed Enhanced Edition. Featuring improved graphics, better facial and character animations, new gameplay features and more tutorials, the Enhanced Edition is the ultimate version of the popular PC game.
Set in 2035 twenty years after most of the human race were forced to take shelter below ground from the destruction of World War III, AfterFall: Insanity follows protagonist Albert, a medical officer drawn into a terrifying, claustrophobic nightmare as fear and madness drives the people of his shelter insane.
Facing off against fiendish puzzles and horrifying monsters, battling against his own growing insanity and the evil that plagues his home, Albert must use the powers of logic and deduction as well as courage and keen reflexes to survive.
Despite the initial PC release not exactly setting the world on fire, AfterFall: InSanity does have its plus points, most notably in it creepy atmosphere and alternate history backstory. Developers Intoxicate Studios recieved far more positive feedback for the Extended Edition, the fruits of which will be wrapped up in this retail version.
The AfterFall: InSanity Enhanced Edition will launch on PC in the UK on November 2nd for a recommended retail price of £19.99.