Tomb Raider: First Wave of Pre-order Bonuses and Special Editions Detailed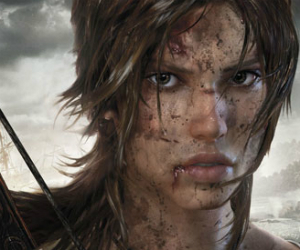 As the time drains away from 2012's AAA-filled bulb, we're fast approaching 2013's frankly ridiculous first-quarter release line-up. Or total oblivion by solar flare, if the Mayans are to be believed.
However, if by some miracle you do survive December and aren't eating cold beans out of a sun-burned tin in a cave somewhere, you may be tempted to pick up the new Tomb Raider (not The Retro-tastic Adventures of Lara Croft, Aged 19 1/2, as I would have named it) when it hits the shelves in March, with added grit and realism but sans the stretchy shorts and wilful extermination of protected wildlife.
In order to stoke the fires of your anticipation yet further, Square-Enix have revealed the following details concerning the special editions and various vendor-specific pre-order incentives:
The Survival Edition comes with a book of illustrations by Art Director Brian Horton, a highly-detailed double-sided map of the mysterious island upon which Lara finds herself stranded, and a protective survival pouch. You'll also receive a download code for the soundtrack and a handy in-game weapons pack. The Deluxe Collector's Edition contains all of the above, plus a 6″ Lara Croft figurine in a specially-made metal box from Arts Kai.
Those who pre-order from GAME will receive an exclusive "Challenge Tomb" and early access to Lara's "Fast Climb" skill for an evasive advantage, while Tesco customers will receive various weapon upgrades, such as a pistol silencer, a reticule for easier headshots and a burst shot ability. You'll also gain access to the "Animal Instinct" skill, which helps you level up faster.
ShopTo.net are offering an exclusive six-part, 48-page comic book, Tomb Raider: The Beginnings, written by Rhianna Pratchett and with cover art by Brian Horton. The comic tells the story of how the Endurance crew came together, and how Lara came to be aboard during the fateful voyage directly proceeding the events of the game.
There will be more pre-order bonuses and incentives revealed in the coming months, including details of exclusive DLC for those who shop with Amazon. We will, as always, keep you posted. In the meantime, why not watch this rather awesome trailer, just for the hell of it.
Tomb Raider is being developed by Crystal Dynamics and published by Square-Enix. It is scheduled for release on PC, PS3 and Xbox 360 on March 5th 2013.