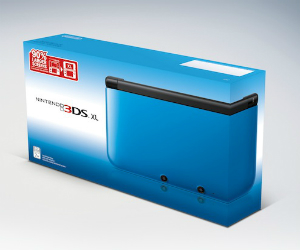 Nintendo are looking to make the most of the Christmas rush as they offer a free game to 3DS XL buyers this holiday season.
Christmas is on the horizon, and no doubt many of you have already decided what you are going to ask Santa to bring you on the big day, but if you didn't put a 3DS XL on your list, maybe it's time to think again.
Nintendo are spreading the Christmas spirit as they are offering 3DS XL buyers a choice of five games to choose from, if they register their new handheld by January 15th 2013 with Club Nintendo. Once you have registered, you will be able to choose your free game and will receive a download code. Sounds good to us, so what are the game choices?
Freakyforms Deluxe Your Creations, Alive!
New Art Academy: Learn New Painting Techniques and Share Your Art,
Professor Layton and the Miracle Mask,
Nintendo presents: New Style Boutique,
That's quite a diverse list! The stand out for us has to be the incredible Super Mario 3D Land, which blew us away upon its release last year. If you are yet to register your 3DS XL with Club Nintendo and you haven't used the code that came in the box, we think you should be able to take advantage of this offer, too. So get registering, peeps!
Offer is valid in the following countries: UK & Ireland, Germany, France, Spain, Italy, Netherlands, Belgium, Portugal and Russia.