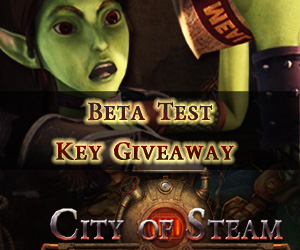 Fans of our MMO focused podcast, Ding! will be well aware of City of Steam by now. The Steam Punk browser-based MMO by Mechanist Games. This is certainly one to look out for, breaking the barriers between great gameplay, and browser-based gaming.
Closed Beta begins on 16th November and runs right through until 28th December, just after Xmas!
The Beta will be divided into 4 seasonal periods:
Springtide (Nov. 16th to 20th)
Summercrest (Nov. 30th to Dec. 4th)
Autumnwane (Dec. 14th to 18th)
Winter Festival (Dec. 23 to 28th)
We're giving away keys to take part in the entire Beta. There will be plenty of events and additional features throughout the four seasons, so be sure to keep checking back.
To grab yourself a key, simply enter your details below and we'll email you a key, while stocks last!
[contact-form-7 id="98111″ title="City of Steam"]
Only one code per person.
Key Features of City of Steam Include:
Character and Weapon Customization – Weapon appearance changes when modded
Branching Storylines – Choose the path your story will take
Lightweight – No massive download or install required
Full Featured – Content you'd expect from a AAA MMO, but all easily accessed from a browser
Beautiful graphics and scenery
10 races, 4 classes, with more on the way
Content for casual and hardcore gamers alike
[nggallery id=1138]