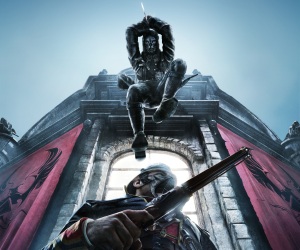 Bethesda have just announced the release date for the first DLC for hugely popular First Person Stealth 'em up, Dishonored. Entitled "Dunwall City Trials", you'll be able to buy it on December 11, and unlike Skyrim, you can get it for PlayStation 3 and Windows PC (£3.99/$4.99) as well as Xbox 36o (400 Microsoft Points).
Included in this pack will be 10 challenge maps that are designed to test your various assassin skills. You'll have to fight off waves of tallboys, guards, weepers and thugs. There's new achievements (and trophies) and even a global leaderboard. It all sounds terribly exciting, especially if you're a fan of the game, and you should be if you'd read Mick's glowing 10/10 scoring review of Dishonored.
Check out some screenshots from Dunwall City Trials, below.
[nggallery id=1157]
Dishonored: Dunwall City Trials will be released on December 11 for Xbox 360, PlayStation 3 and Windows PC.