Enjoy The Assassin's Creed Saga With A New Anthology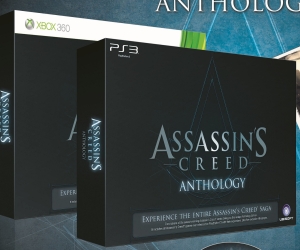 All the Assassin's Creed console titles in a handy boxset, with added extras!
With the recent overload of Assassin's Creed in the form of the third game in the series, and the Vita's Liberation, it would be hard to not know about the series. But there has to be someone out there that hasn't played any of the games before, and if that person does exist, Ubisoft have them covered with the Assassin's Creed Anthology.
A special collection containing all of the console Assassin's Creed games so far (on either Xbox 360 or PlayStation 3), this Anthology includes:
– Assassin's Creed
– Assassin's Creed® II, which includes:
Sequence 12: Battle of Forlì DLC
Sequence 13: Bonfire of the Vanities DLC.
– Assassin's Creed® Brotherhood – The Da Vinci Edition, which includes:
The Da Vinci Disappearance: 1 single player story Mission
2 Additional Solo Missions: Trajan Market and the Aqueducts
New Multiplayer features: 1 Map + 6 Characters + 2 new modes
– Assassin's Creed® Revelations – The Ottoman Edition, which includes:
The Lost Archive: One single player Story Mission
New Singleplayer Features: 3 Skins, Capacity upgrades
Additional Mission: Vlad the Impaler's Prison
New Multiplayer Features: 6 Maps + 7 Characters + Customisation Items
– Assassin's Creed® III, which includes:
The Season Pass, providing instant access to all forthcoming Assassin's Creed® III downloadable game content packs, the first of which is available from mid-December 2012.
All this comes in a collector's box, also containing five lithograph prints and a shiny Steelbook case – Available from November 30th, the whole Anthology is yours for £119.99 – Which sounds a lot, but is a pretty good detail considering the price of buying the games individually, plus purchasing the additional DLC.
Are any of our beloved readers thinking of picking this collection up?
[nggallery id=1131]
Assassin's Creed Anthology is available on PlayStation 3 & Xbox 360 from 30th November, for £119.99.