Get Along to London's Oxford Street For CoD: BlOps II Official Launch Event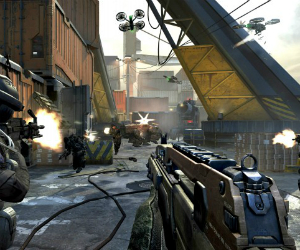 Treyarch and HMV Oxford Street have teamed up to host the official Black Ops II Launch Event, which kicks off at 10pm on November 12th.
We are just a week away from the launch of one of this year's most anticipated titles. Love it or hate it, there is no doubting that Call of Duty: Black Ops II will sell by the container load, and millions of man hours will be put into playing its multiplayer portion by millions of dedicated gamers the world over. Is it any good? Well, you'll have to wait just a little longer to find out via our review in the coming days.
If you want to be one of the first people to get your hands on this year's Call of Duty update, you may want to head on down to HMV's Oxford Street outlet, which will open at 10pm on November 12th, allowing gamers to pile into the store and get to grips with the new game early via specially set up demo pods. There will be a 4vs4 multiplayer match when the event begins, followed by a Zombies Tournament.
A number of guys from the Treyarch team will be on hand to sign your copy of BLOPS2, you'll be able to partake in some multiplayer action while waiting in line and if all of that wasn't enough, some real life (dress up) Zombies will be roaming the halls, sprucing up the atmosphere and taking it all in, one Zombie step at a time.
HMV's Category Manager for Games, Andy Pinder, not to be confused with busty page three model Lucy Pinder, comments: "I am a huge fan of Call of Duty, so on a personal level I am really excited and can't wait for it to come out.  I hear the new perks are great and I'm particularly looking forward to seeing what they'll be like.  This is undoubtedly the games release of the year, which is great news not just for fans but retailers alike as we head into Christmas."
Undoubtedly the games release of the year? That is a bold claim, Mr.Pinder. 2012 has seen some awesome releases, after all.
Call of Duty: Black Ops II is set to release on November 13 for Windows PC, Xbox 360 and PlayStation 3. The game will release on November 30 in Europe and November 18 in North America for Nintendo Wii U