You know what day it is? It's Monday again and that can mean only one thing here at GodisaGeek: It's time for another edition of Mobile Monday, the article where we take a look at four mobile games and let you know if they're worth your time and money.
This week we're taking a look at One Tap Hero from Coconut Island, Pilot Brothers from G5 Entertainment, Fallblox from Nintendo and Angry Birds Star Wars from Rovio Entertainment.
Read on to find the full reviews of each game, but don't forget to come back next week for more Mobile Monday reviews. While you're here, if you have played any of the games listed, or even just want to come back once you've had a go to let us know how you got on, we'd love to hear from you in the comment box at the bottom of the page.
Titles are available on iPhone and iPad unless specifically stated otherwise. If you like what you read, click the small black "App Store" button to load iTunes up and purchase the title!

ONE TAP HERO by Martin Baker:
Some games on the iOS App Store have very descriptive names. There aren't a lot of examples of them but when they do pop up, it certainly is a breath of fresh air to know what you're getting yourself into before you even open the app. One Tap Hero, developed by Coconut Island, is one of those games. Even from the title of the application you know that the control scheme is going to be simple, only requiring a single tap in order to perform the many actions that are in the game. Does the simplicity of the controls mean that the game is more or less enjoyable? Only time, and actually playing it, will tell.
The gameplay in One Tap Hero requires the player to get to the end of the level and rescue the main character's girlfriend who has seemingly been turned into a bear. It's very Mario-esque in that regard and that familiarity allows players to instantly know what they're supposed to be doing in the game. The main character will always move across the screen, the only input the player has to perform is to tap the screen in order to make the character jump or climb a ladder. The player must use this single action in order to get to the end of each level while collecting as many of the three stars, hidden on each level, as possible.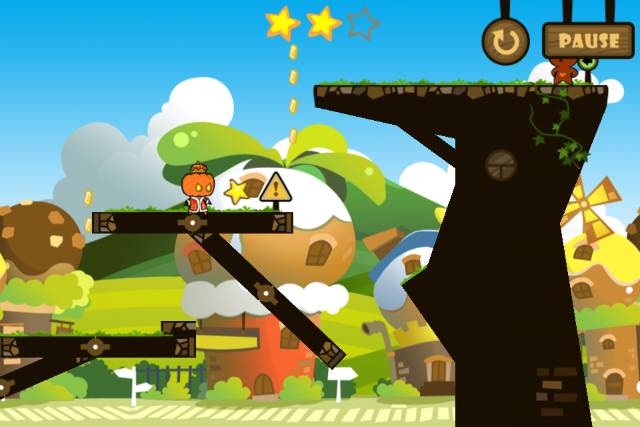 In a couple of the levels there's also a key that's a little bit harder to grab than the stars, collect these keys and you'll be able to unlock one of the secret levels that are dotted along the bottom of the page. You're going to want to unlock all of these levels if you want to 100% complete the game, but they're not required in order to further your progression through the title. Collect a set number of stars and you'll be able to move on to the next series of levels until you've completed all 100 of the currently available levels. At that point, you're going to have to wait a little bit until the developer gets around to adding a few more sections to the game.
As the title would suggest, the controls of the One Tap Hero consists of a single tap, that's all you're going to have to do in order to play through the game, just tap the screen whenever you want to do anything. Tap the screen when there isn't a ladder around and the character will jump, do it while you're near a ladder and he'll start climbing up it, tap it again and he'll start walking back down it. The simplicity of the controls doesn't mean that the game is easy though, there are points in the game when you'll be replaying levels over and over again just to get the full three stars; in a good way though.
There's something really interesting about playing a game that only has a single control to worry about, no fiddling about with on-screen analog sticks, no precise controls that are difficult to use on the smaller screens of the iPhone and iPod Touches, just simple, addictive and fun gameplay. Everybody should download and play One Tap Hero, it's a great iOS games that knows how to use the touch functionality of the devices to its advantage.


PILOT BROTHERS by Martin Baker:
Everybody loves a good puzzle game, whether they're playing something basic on their iOS device or the latest Professor Layton title on their more powerful handheld gaming device, there's nothing better than sitting down and giving that mushy substance between your ears a bit of a workout. Pilot Brothers is a style of puzzle game that we don't usually get treated to on the iOS platform, more akin to a point and click adventure game than anything else. However, there's a reason that they're not so popular, the smaller screens don't really lend themselves to the kind of small hot spots that adventure games are known for. Does Pilot Brothers do anything to relieve these usual frustrations or is it all just more of the same?
The gameplay plays out much like any other point and click adventure game that you may have played before, there's a series of static screens where the main objective is to figure out what's required of you in order to get to the next screen in the title. Perform the action, move on to the next screen and do the same thing over again in order to move on. It's this gameplay that makes this title quite addictive as you'll often find yourself just looking at what the next screen will involve. A couple of minutes later you'll finish this screen and find yourself doing the same thing with the next screen and so on. You'll soon find yourself a couple of hours later, still staring at the screen even after you were only supposed to be playing for five or ten minutes. Addictive gameplay at its finest.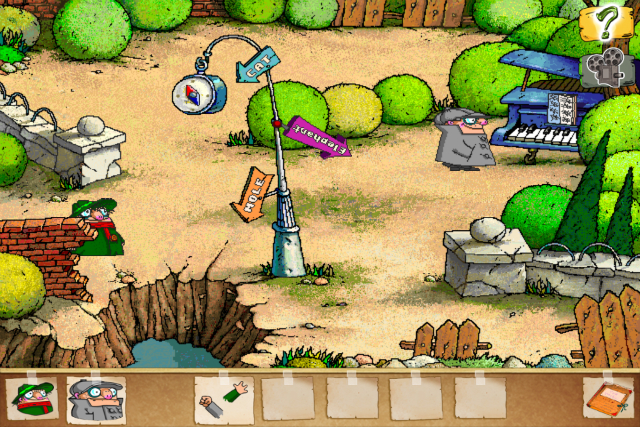 If things get a little bit too difficult for you with Pilot Brothers then there are two options available to you, depending on exactly how much help you want. The first option, the question mark, will highlight all of the usable areas of the screen, all of the areas which, when tapped on, has the possibility of solving the screen. If you just want to see which areas of the screen to concentrate your search on, but not actually been told the answer, tap the question mark and you'll be lead towards the answer. There's one more option, if you're still not able to get the solution after using the question mark option. You can tap on the movie camera in order to play a short movie of the solution, showing you exactly what you need to do in order to move on to the next area of the game. Hopefully people don't use this option much, but it's nice that it's there just for those times that players get frustrated staring at the same screen for hours on end.
If you've been on the lookout for a decent point and click adventures on the iOS devices then your search may very well be finally over. Pilot Brothers isn't a perfect game by any means, the animations leave a lot to be desired and the story and sounds aren't exactly great but it's a fun game to play whether you play it for five minutes at a time or a couple of hours. Whatever your stance on point and click adventures, on any platform, Pilot Brother is worth a look just for the fact that it's attempting to do something a little bit different on a platform that's so used to everything just being the same as everything else.


FALLBLOX by Adam Cook:
Around this time last year, Nintendo released a game called Pullblox (Pushmo in North America) which almost entirely justified the lack of a huge eShop presence, for me. It was magnificent. Packed with the kind of graphical charm and that one-amazing-gameplay-mechanic idea that Nintendo always do, and that nobody else can touch them on. But now, Fallblox is here. A new take on the original game, it's hard to believe it, but this one is actually even better.
Upon first glance, you'd be forgiven for wondering what all the fuss is about. A typically over the top hand-holding tutorial introduces the player to what seems to be a simple puzzle game, with some platform elements. However, once you are cut loose and able to just get on with the game, the fiendish puzzle design that hides beneath the overtly colourful, charming visuals will leave you scratching your head and thinking back to the Portal games; yeah, Fallblox is that good.
You play Mallo, and your job is to solve the puzzles that the game holds, in order to catch the birds that you let loose, accidentally. Each puzzle is made up of blocks (or blox, sure…) that are in varying shapes, and require you to manoeuvre them into a position that allows you to climb them like stairs. You can jump to bridge a one-block gap, but no more. In Fallblox, unlike in Pullblox, if you remove a supporting block, the one above will fall, meaning there is even more lateral thinking required. And by God, there are some really tricky puzzles here. It may seem like an obvious thing to do – to introduce gravity – but it makes Fallblox one of the very best puzzlers on the market.
The grid that the puzzles take place on is bigger this time, which is handy because you'll be moving the blocks in and out of the screen, left and right, and everywhere, just trying to find the solution to the puzzle. You can now also rotate the camera in a full 3D space, so you can study the environment to see where your next move might be, as well as being able to rewind time a certain amount if you mess up, so you don't have to start the whole puzzle over again.
But it's not just puzzle solving, Fallblox – like its predecessor – includes the function to create your own puzzles and share via QR codes, so there's potentially a never ending amount of levels. That is, if you finish the 100+ that are included, and if you do those easily, you're a monster.
Fallblox isn't just the best eShop download on the 3DS, it's one of the best 3DS games full stop. If you don't buy this, then you're missing out on a phenomenal puzzle title that is up there with the very best in the genre, but with added Nintendo charm. Let me tell you, the last time I remember being this excited about a puzzle game, it was a little title called Tetris. An absolute must-buy.


ANGRY BIRDS STAR WARS by Martin Baker:
We've talked about Angry Birds quite a lot here on Mobile Monday, we've talked about the plethora of games that have copied the gameplay style of the seminal mobile title but we've never talked about an entry into the series before. It's time for that to change and the release of the Star Wars themed Angry Birds, the appropriately named Angry Birds Star Wars, developed by Rovio Entertainment, seemed like as good a time as any to get in on the Angry Birds bandwagon; I'll also try not to say Angry Birds as many times in the rest of this review as I have in this introduction paragraph. Try.
The gameplay is exactly what we've come to expect from a game in the Angry Birds series of games, you take control of the titular birds, in this incarnation modeled from members of the Rebel Alliance such as Leia Organa, Han Solo, Ben Kenobi and Luke Skywalker, and use a slingshot in order to take down the pigs who are obviously based on the Empire characters. There are aspects to the game that are a little bit different as the story of the game follows the story of the original trilogy. For example, at the start of the game you'll be throwing the red bird, the Luke Skywalker bird, and he'll have no special abilities at all. Once Luke has acquired his father's lightsaber in the story, the red bird will have a new special ability in that you can tap the screen and swing the lightsaber to cut through the structures that litter each level.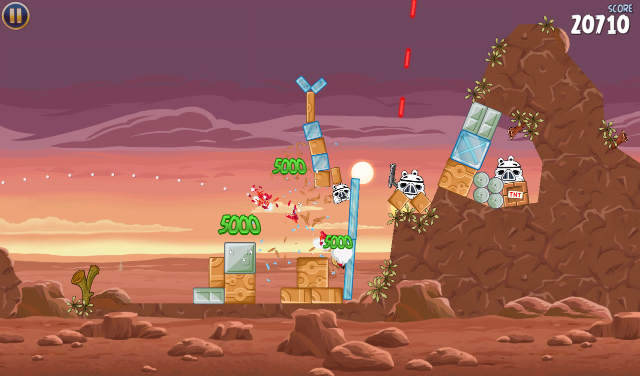 There are plenty of levels for you to be getting busy with too. All of which follow along with the story of the Star Wars films (although there's no Empire Strikes Back episode yet; it appears to be "coming soon"), there are also bonus levels that will unlock as you acquire more and more stars. These bonus levels focus on R2-D2 and C3P0 and are very similar to the Angry Birds: Space game in that you'll have to manage the trajectory of the characters as well as the gravitational pull of the nearby planets. These are fun to play, especially if you prefer the Angry Birds: Space game over the original Angry Birds, but they're exactly what they're intended to be; bonus levels.
If you've still not had your fill of Star Wars related news over the last couple of weeks with Disney buying out Lucasfilm (let's be honest here, who's ever "had their fill" of the greatest trilogy of all time) [Editors Note: Martin refuses to acknowledge the second trilogy] then you can get yourself a great game, with a great aesthetic and spend many more hours than you actually ever intended to. What's even better, for people who own Android devices at least, is that just like the other Angry Birds games, Angry Birds Star Wars is absolutely free. There's no excuse for not getting in on the action. Go take on the Empire, you know you've always wanted to.