Angry Birds Star Wars Merch Will Be Available Soon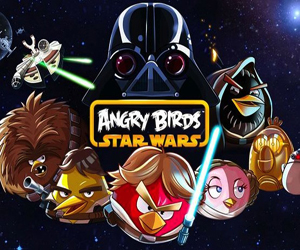 When two mega powers get together, you're pretty much guaranteed to print cash. Angry Birds Star Wars was announced a few weeks back and now we can confirm that some Star Wars themed Angry Birds toys are on the way.
In the New York landmark of Times Square, queues were massive as the official merchandise was previewed by throngs of fans. The iOS title is coming to the App Store on the 8th November, with the cuddly toys following shortly after. Five characters will be available at first; Han Solo, Princess Leia, Luke Skywalker, a Stormtrooper and the infamous Darth Vader.
Each toy will be available in three sizes; 5 inches, 8 inches and 12 inches. With Christmas right around the corner, these are destined to sell big time. So, if you've any small kids that are itching for some new Angry Birds/Star Wars merch, this is a cool amalgamation that will blow your little kid's mind.