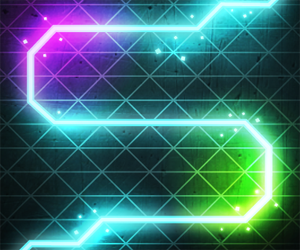 A few days ago, we were greeted with Velocity developer FuturLab Studios' theme tune to their next game. Today, we get details on the game which is coming in mid-December. The Brighton based developer has revealed the tile-matching game, Surge. This PlayStation Mobile title looks similar to your regular colour-matching effort that we've seen numerous times before, but there is an element of touch involved as you drag electrical currents to blocks to destroy those of the same colour – hence, Surge.
And, there's a story! Mankind has discovered an energy source that gives off massive electrical power, but pressure levels must constantly be kept in check by destroying blocks. Sure, a story element isn't needed per se, but a bit of context is nice.
You can have a look at the trailer below and all will become a bit clearer.
Surge will be released on December 12 for PlayStation Vita (via PlayStation Network) and Android