Get to Know Wave 2 of Skylanders Giants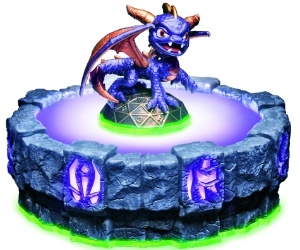 With the release of Skylanders Giants – the latest title to make use of the Portal of Power physical accessory – has come a new selection of figures that can be collected and used with the game. Wave 2 of the Skylanders has now been described in a little more detail by the development team at Toys for Bob.
The Skylanders characters are always lovingly created, and full of character, and the developers love to go that little bit further and create a whole backstory and characteristics for each one of them. See a selection of the latest Giants below:
HOT HEAD
Element: FIRE
Phrase: Hey! I'm on Fire!
Bio: Hot Head had always been a short tempered fire giant. But it was when magical oil was discovered in Skylands that fuel was really added to the fire. As exciting as the discovery was, the celebration lasted only 5 minutes – coming to an abrupt halt when Hot Head needed to cool off and plunged into the thick black pool, causing the entire island to explode! Though it would be another 2,000 years before magical oil was discovered again, the impact that it had on Hot Head was immediate. He was instantly infused with magical oil, giving him the ability to generate an infinite supply of fuel – making him incredibly volatile, highly combustible, and ready to torch anything that got in his way.
SPROCKET
Element: TECH
Phrase: The Fix is in!
Bio: Sprocket was raised with all the privileges of a rich, proper Goldling. But she cared little for fancy things. Instead, she spent most of her time growing up in her uncle's workshop, learning how to build and fix his many mechanical inventions. But everything changed on the day her uncle mysteriously vanished. When she eventually discovered that Kaos had been behind his disappearance, she constructed a battle suit and went after him, leaving the luxury and comfort of her family's wealth behind. From that moment on, Sprocket was dedicated to fighting the forces of evil, while never losing hope that she would be reunited with her beloved uncle.
FLASHWING
Element: EARTH
Phrase: Blinded by the Light!
Bio: Flashwing's true origins are a mystery. But her first appearance came when Bash made a wish that he could fly and looked up to see a shooting star streak across the sky and land in a valley below. In the centre of the glowing impact crater was a large, brilliant geode – which suddenly cracked open to reveal Flashwing. Bash may not have soared that day, but his heart sure did, because Flashwing was beautiful… and lethal. As soon as Bash stepped closer, the gem dragon turned towards him. Not knowing if he was friend or foe, she blasted him off of the cliff with a full force laser pulse from her tail! Perhaps Bash flew that day after all.
See below for a video vignette for each character, as well as some new images:
[nggallery id=1120]
Skylanders Giants is out now on Nintendo Wii & 3DS, Sony PlayStation 3 and Microsoft Xbox 360. The game will be coming to Nintendo Wii U on November 30 in Europe and November 18 in North America.