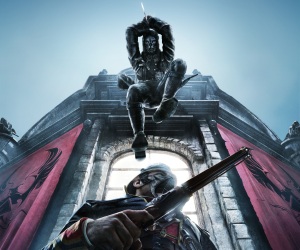 Bethesda have announced that the first DLC pack for Arkane Studios acclaimed murder-athon, Dishonored, is available to download for Xbox 360 or PC from today.
You can now show off your master assassin skills in the Dunwall City Trials, ten specially designed challenge maps that (for example) will see you tasked with offing a certain number of enemies in a given time, or standing your ground against waves of guards, weepers or Tall Boys. Your scores will be posted to online leaderboards, so for the first time you'll be able to go head to head with other deadly assassins and prove your mettle.
We absolutely love Dishonored here at GodisaGeek.com, and given that each level is one big playground of violence anyway, the idea of maps designed around specific challenges is a tempting one. There's also a whole new set of achievements to hunt down, should you be inclined.
Dunwall City Trials is available to download today from Xbox LIVE or Steam, priced at 400 MS Points or £4.99 respectively. It will be available for PlayStation 3 on December 19. Check out the trailer below.
Dishonored is available now for Xbox 360, PlayStation 3 and Windows PC.