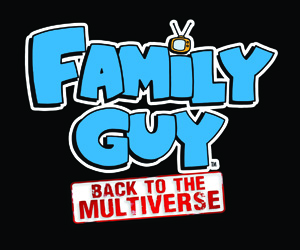 Activision recently released their TV show tie-in Family Guy: Back to the Multiverse, which looked to cash in on the enduring humour of the cartoon series. The game may not have been a tremendous success, as evidenced in our review, but it did at least manage to pack in a few laughs.
Now, Actvision are looking to flesh out the package on offer a little, with the release of a large bundle of DLC modes and elements. The overall pack, which features four add-ons for the game, is called Peter Griffin's Man Boob Mega Sweat Pack, and it includes an array of new costumes to equip with your playable characters, many new weapons to try out in single and multilayer and an extra bonus Challenge mode level to play through.
The details are all listed below:
The Space Station Challenge, which throws Stewie and Chris into the middle of a war against malicious alien chickens – in space! Features single-player and co-op gameplay.
The Evil Pack unlocks the Evil Stewie and Evil Mayor West costumes, each equipped with unique melee weaponry. Machete-wielding Evil Stewie is available in all game modes, while Evil Mayor West and his petrified cat are usable in Multiplayer and Challenge Modes.
The Humiliation Pack adds two additional costumes across all game modes – a diaper-dressed Stewie and pink-furred Brian.
The Opening Number Pack adds some class to the Griffin family with the gold-colored tuxedos and top hats from the show's opening theme song. These dapper outfits are available in Story Mode (Brian and Stewie only), as well as Multiplayer and Challenge Modes.
The DLC pack is out right now on the Xbox LIVE Marketplace and the PlayStation Network, and Activision have also revealed that as an added bonus, those PlayStation 3 users who download the pack will also receive an exclusive Family Guy: Back to the Multiverse Theme to customise their console with.
Check out some artwork showing the new costumes available below:
[nggallery id=1188]
Family Guy: Back to the Multiverse is out now for the Xbox 360, PlayStation 3, and PC.