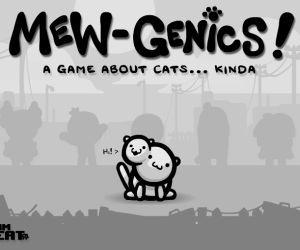 For a number of weeks now, the creators of Super Meat Boy have been informing everyone of certain aspects of their next game, Mew-Genics.
This week, the update on the Team Meat Blog was short, concise and to the point.
"Mew-genics isnt exclusive to iOS and will release on multiple platforms"
Team Meat have been saying that their game would be available on multiple platforms, and we now know one of them. The image that accompanies the post on their blog is of an iPad, but there's no info on other platforms, just yet.
All of the information that's dropped in the last two months has people itching to find out what exactly Mew-Genics entails. Here's hoping for a more detailed break down on the game about cats, soon.