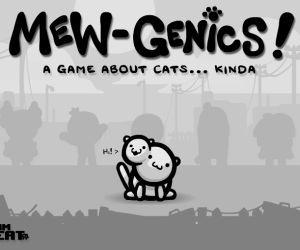 After five weeks of teaser images containing Dr. Beanies and Mr. Tinkles, Frank, Tracy and Butch, we learn about the cats in Team Meat's upcoming Mew-Genics.
With every passing week, the creator's of Super Meat Boy have been dropping little hints here and there about characters in their next game and now they've announced that 12,207,031,250,000,000,000,000 cats will feature in the game. Honestly, I couldn't tell you what that number is…over 12.2 gazillimillibillion? Regardless, it's a lot.On the Team Meat Blog, Edmund McMillen said;
"…its easy to assume you and your friends wont ever have the same cat. technically that number only applies to how the cat looks, if you include its personality variables that number multiplies by A LOT.. not to mention the ability variables, personal stats and a ton more secret stuff we will talk about later on".
He adds that the only way the player will get the same cat twice, is to clone them. However, in that instance, the cat's kitten-life will effect their behaviour/personality, leading to two drastically different cats. Just like Solid Snake and Liquid Snake.
The indie developer has remained tight lipped on gameplay details, but this is already sounding like a winner.
[nggallery id=1161]