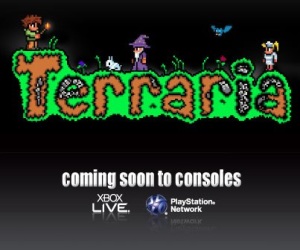 The highly popular 2D building, digging and general sandbox gameplay of Terraria is on its way to Xbox 360 and PlayStation 3 via Xbox LIVE and PlayStation Network, pretty soon. For those that are worried about the PC title's control scheme on consoles, fear not, they have been revamped, and the game also has a ton of new features.
As the trailer below shows, split-screen online and local multiplayer is a new addition to Terraria, along with new armour, new enemies, new music, a new final boss, and more.
Xbox 360 players took to Minecraft like ducks to water, will Terraria's appeal be as strong? Possibly not on 360, but I can see PS3 players jumping on Terraria in a big way. Sadly, there's no date on when this version of the game will be released, but hopefully we won't be waiting long.
Terraria is available now for Windows PC. The game will be released in 2013 for Xbox 360 and PlayStation 3