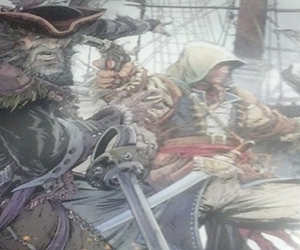 Alleged promotional material for "Assassin's Creed IV: Black Flag" has been sent to the offices of gaming site Kotaku.
Ubisoft have planned an Assassin's Creed event for later today, where many expect to see the first sighting of a next gen Assassin's Creed title.
The publishing giant has already confirmed that a new game is coming, announcing only that it would be out in the next fiscal year, be set in a new location for the series and have a new lead character.
A pirate-themed game certainly makes sense after so much praise was lavished on the naval battles in last year's 'Assassin's Creed III'.
The segments were unlike any other part of the series to date and very much felt like an experiment ahead of future plans.
Whatever Ubisoft's plans for the series, we will all likely find out about them before the end of the day.