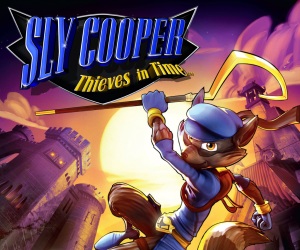 Thieves in Time, the fourth title in the Sly Cooper series of stealth-based platform games was released in North America this week, despite the title being delayed until March 27 in Europe – see the customary launch trailer here.
In the new game, Sly and the player must travel back in time in order to save the Cooper family legacy, and the game picks up right where the third game in the series – Honor Among Thieves – left off at, when it was released almost eight years ago. The title will feature the same sneaking and platforming gameplay that has been a staple of the series since day one, and offers a different kind of platform game than your average cartoon adventure.
Most interestingly perhaps, the game features cross-platform play, so gamers can play the title on either the PlayStation 3 console or PlayStation Vita handheld, and transfer their savegame from one to the other in order to pick up their game anywhere. A GodisaGeek review will be forthcoming closer to the UK release date of the title.
See the launch trailer here:
Sly Cooper: Thieves in Time is coming to PlayStation Vita and PlayStation 3 on March 27 in Europe, but February 5 in North America.