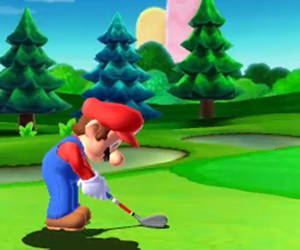 As has become customary of the gaming giant, Nintendo has unleashed a flood of new information in their latest Nintendo Direct broadcast.
Three brand new titles were announced for the 3DS – Mario Golf: World Tour, Mario & Luigi: Dream Team and a remake of Wii title Donkey Kong Country Returns.
All three titles are set for release this summer – meaning even more handheld goodness is on the way towards the end of the year.
Release dates for Luigi's Mansion 2 (March 28th), Monster Hunter 3: Ultimate (March 22nd), Fire Emblem: Awakening (April 19th), Castlevania: Lords of Shadow – Mirror of Fate (March 8th) and Animal Crossing: New Leaf (June 14th) were also confirmed.
All links above will take you to videos of those games taken from the broadcast.
A very Luigi-heavy opening ten minutes was presented by Satoru Iwata and included the Nintendo Direct début of Shigeru Miyamoto, who spoke about the mechanics of Luigi's Mansion 2.
Multiplayer was also announced for the decade-in-the-making sequel, with a co-op campaign separate to the single player story joining  Race, Hunter and Chase modes.
The biggest surprise was a new Mario & Luigi RPG from Alpha Dream which will be set within the dreams of Luigi.
Iwata eventually gave way to Satoru Shibata, who hosted the EU specific webcast.
As well as confirming the above release dates Shibata also announced Monster Hunter 3 Ultimate bundles for both the Wii U and 3DS which will come with a pro controller and a black 3DS XL respectively. The 3DS version will also come with the game pre-installed on the device.
A new 3DS Circle Pad Pro for the XL will also be available from March 22nd (it is enormous).
Starting from today European 3DS owners will also be able to download The Legend of Zelda: Ocarina of Time 3D at the discounted price of £19.99 until February 21st.
A downloadable Mario and Donkey Kong game was also announced.
The US-specific broadcast confirmed North American release dates for Lego: Undercover, which will be heading to the Wii U on March 18th and the 3DS in April. A European date wasn't announced.
Wii Street U is also out now in Europe and North America.
Watch today's Nintendo Direct in full below…