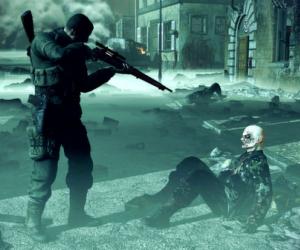 According to the steam page, the Nazi Zombie add-on for Sniper Elite will be released with a 20% discount if you pre-order, meaning the game will only cost £7.99.
The best thing about this is that it's a standalone release, meaning you don't need the full game to play it. It also has a four player co-op campaign, which is a first for the Sniper Elite franchise.
This does appear to be the game Rebellion had been teasing so heavily, because the logo underneath the name matches up with the one shown in the teaser trailers, and also fits the "February" release date.
Below, we've got a few screenshots from the game, courtesy of steam. You can pre-order the game here.
[nggallery id=1304]
Sniper Elite: Nazi Zombie Army will be released on February 28 for Windows PC.