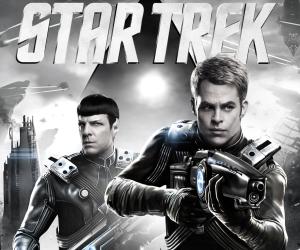 JJ Abrams Star Trek reboot was absolutely first rate. Even if like me you only have a passing knowledge of the Trek-iverse, it was a high octane modern sci fi classic that had me screaming out for a sequel the moment the credits hit. It has been a wait – but now Star Trek: Into Darkness is on the horizon this May, as well as Namco's new Star Trek: The Video Game – which drops on the 26th April.
In news which will excite sci fi fans Paramount Pictures and developer NAMCO BANDAI UK today announced a pre-order and day-one purchase opportunity with all UK GAME stores.
The partnership allows any purchaser of Star Trek: The Video Game on any format an exclusive complimentary ticket to Star Trek Into Darkness.
Working with Hollywood Movie Money, upon pre-order or day-one purchase the customer will receive a unique code where they can redeem it instantly online via a special microsite. The redemption will award a full adult ticket to any Cineworld cinema in the country. Any additional seating or upgrade will have to be purchased at the cinema chain. The promotion will be available whilst ticket allocation and box office remains. Pre-orders are a focused push for this activity and guaranteed to secure your free ticket.
Namco Bandai Partners UK and Game will also select a special winner from all the purchasers and offer a VIP, red-carpet treatment to a future Paramount Pictures UK Premiere including 5 star accommodation.
Star Trek: The Video Game will be released on April 26 for Windows PC, Xbox 360 and PlayStation 3.