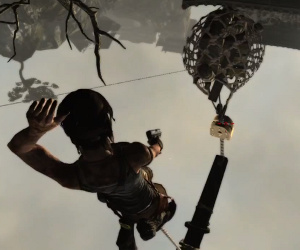 The wait is almost over for the return of Lara Croft. The game hits store shelves next week and to keep that hype train rolling, Square Enix has released a new trailer entitled; Reborn.
The new trailer shows some things that you'd expect from 2013 Lara such as climbing, jumping, stabbing…etc. However, the real thing that makes this stand out a little bit are the appearances by real life people that are interspersed with gameplay. Men and women of all ages begin to say a whole host of buzzwords throughout the trailer such as;
agile
tough
courageous
fast
brutal
It's a little bit different to the usual trailers we get coming up to launch, I guess. Our review will be up in coming days, but until then, feel free to write some random adjectives in the comments section.
Tomb Raider will be released on March 5 for Windows PC, Xbox 360 and PlayStation 3