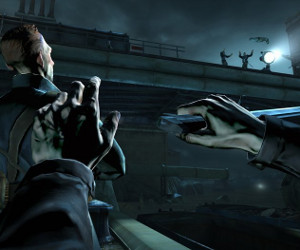 After a little tease on Bethesda's Twitter account, the publisher has confirmed that the public can get ready to re-enter Dunwall, in just over a month.
The second piece of DLC for Arkane Studios' title Dishonored is scheduled to be released on April 16 in Europe for Xbox 360 and PC, with European PS3 owners getting the add-on, the following day. The Knife of Dunwall will set you back £7.99/€9.99/AU€14.45/800 Microsoft Points.
Daud, the assassin who killed the Empress and is voiced by Reservoir Dogs star Michael Madsen, is the protagonist in this expansion of the Dishonored story. New enemies and areas are on offer here, along with some unique weapons and powers that weren't featured in Corvo's arc.
One of the more popular new IPs in recent years, Dishonored picked up a number of accolades from different publications last year and only recently won Best Game at the BAFTAs. Not only that, but it picked up a coveted 10/10 from our very own Mick Fraser.
[nggallery id=1377]
Dishonored is available now for Windows PC, Xbox 360 and PlayStation 3