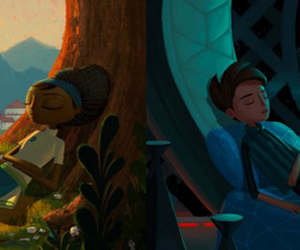 One of, if not THE, video game Kickstarter that made the service known to those that hold controllers in their hands at a regular basis now has an official name. At PAX East, developer Double Fine have announced that Double Fine Adventure's name confirmed name is Broken Age – which we saw thanks to CVG.
The point-and-click adventure that was crowd-funded tells the story of a boy and girl that live parallel lives. The young girl faces a horrible future as her village have chosen her as a sacrifice for a monster, whilst the male character is eager to break free of a computer that mothers him…and he lives on a spaceship.
Watching the development of this game has been a joy and it will be interesting to see how this PC title turns out. We've seen Kickstarter success with such titles as FTL: Faster Than Light, but we've also seen many failures. Fingers are firmly crossed that Broken Age will reach its potential.