As a license, The Walking Dead keeps going from strength to strength. The comic book is nearing issue 110, the AMC show has long since become must-see weekly television after a big dip in quality, and Telltale Games' series sweeped numerous Game of the Year awards at many publications – including here at GodisaGeek.
Taking this license and bringing something new and exciting to the table is the difficult task that the studio behind Ghostbusters: The Video Game and Kinect Star Wars has taken on. The Walking Dead: Survival Instinct will be released at the tail-end of this month and there are many fans of the license that have questions about  Terminal Reality's effort. Thankfully, the studio's principal FX artist and system designer Glenn Gamble was happy enough to answer some of my questions. Gamble made it clear that "nothing is off-limits".
This led me to my first question where I asked Gamble about the immense pressure in taking an established franchise from another medium and creating an immersive and enjoyable game out of it. That immense pressure only mounts, of course, because another developer [Telltale Games] took that same license and produced a video game that received many plaudits from critics and fans alike. Add to that, the fan made video – which garnered some criticism, and the poor reaction to the initial trailer featuring Michael Rooker and Norman Reedus.
Gamble said that "There is pressure. Of course there is. But, the game is coming out and that's that". He said that when you take something that is so beloved as that universe – whether they're fans of the comics, the TV show, or Telltale's video game – fans are bound to be a mix between apprehensive and excited. Gamble stated that they've created a "solid" game in The Walking Dead: Survival Instinct, that has been developed by a team who are all "really big fans of the TV show and the books". With glee in his voice, Gamble stated that the entire process was thrilling for the studio and people will have fun with the game, once it releases.
One element of pressure, funnily enough, comes from Norman Reedus (who plays Daryl Dixon in the TV show and The Walking Dead: Survival Instinct). Gamble said that, "he recently got his copy of the game and has been tweeting about how cool it is". To have the star of the game, and one of the biggest draws of the TV show really pushing your product, is "definitely exciting".
The popular AMC show positions character Rick Grimes as the lead character of the TV show, yet in this video game based on that very same programming, Terminal Reality chose to push Daryl Dixon to the fore. With this in mind, I asked Glenn Gamble if Daryl was always the protagonist in Survival Instinct, or was Rick ever thought of as an option.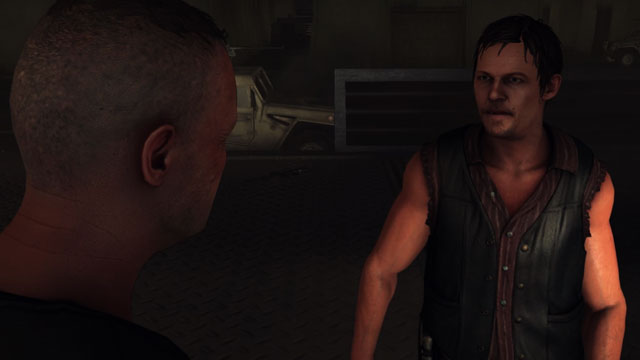 "All possibilities were considered", said Gamble, confidently. At the time Terminal Reality were beginning the development process – which was around the middle of season two – "Daryl was big on the Internet and with general fans of the TV show". Gamble went on to say that Reedus' character has gone through a lot changes, which makes him the perfect choice to be the protagonist in their game. Many other factors were also taken into consideration like the timeframe – which was decided to be before the events of AMC's The Walking Dead. "Rick was in a coma and that wouldn't be all that interesting to play!". Gamble continued; "With Daryl being a TV exclusive character that hasn't shown up in the comics, it seemed like an ideal fit".
One of the things that Gamble claimed was also a massive incentive for Daryl to be featured in the prominent role was his relationship with his brother – "When we began to develop the game, Merle and Daryl's relationship hadn't been fully explored…the two were on-screen in the TV show at the beginning [of season one] and through flashbacks in season two". A fleshed out story, focusing on the Dixon brothers, was seen as a major opportunity for Terminal Reality.
When the game was first announced, the FPS moniker was thrown around a lot and it's something that Gamble himself has been quick to shoot down, as he did so with myself – "The way the game is played…calling it an FPS wouldn't be the right term". Gamble said that The Walking Dead is more concentrated on survival, rather than shooting. Managing your resources has to be taken into account as the player tries to juggle the amount of food, fuel and ammo they have, along with merely staying alive.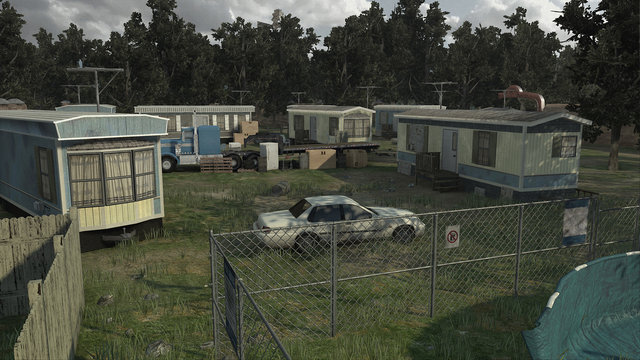 It has been said before that the game will involve some choice from the player, eager to hear more on that, I asked Glenn Gamble about how choice is implemented in the gameplay. Are players tied down to a linear route in missions, or are there multiple paths to achieve goals, during the game?
"Multiple pathways?…Yeah, to a certain extent". Gamble went on to say that Survival Instinct does allow the player to plan ahead and decide their approach. He gave an example; "Rather than try to take out a bunch of walkers you can see in your line of sight, there is the option to throw a glass bottle in a certain direction, in order to create a diversion".
By the sounds of it, there are similarities between The Walking Dead: Survival Instinct and Ubisoft's ZombiU, which Gamble agreed with to a degree; "With ZombiU, there was an element of danger in facing off against more than a couple of zombies. If you look at the TV show [AMC's The Walking Dead], there are times when Rick is overpowered when there are three or more walkers surrounding him". Gamble compared Survival Instinct's portrayal of zombies to the TV show example he gave and said that a group of zombies larger than two could cause players many problems; "…you haven't played the game yet – you'll get that opportunity soon – but even I've played it multiple times and when there's more than 6, I just start shooting recklessly and hope I'll get out alive. Well, I suppose 5 is my limit – if there's 6, I'm probably zombie bait."
He went on to explain the waypoints and road events throughout the game which are the missions on offer throughout Terminal Reality's title. Waypoints are basically the main missions, and road events are your side quests that are optional. "If the player only plays through the game once, they're missing out on meeting characters, discovering new areas and won't be getting the full experience of the game".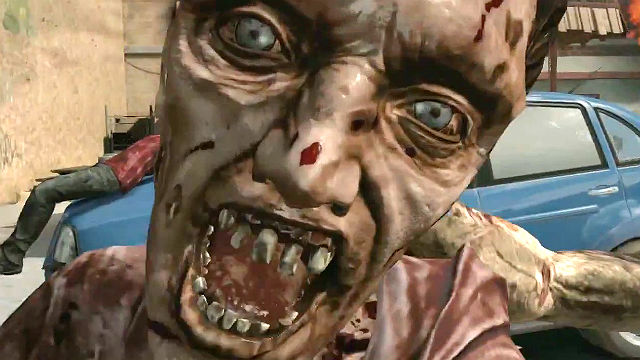 Of course, I couldn't leave my interview happy without asking Mr. Gamble the traditional question that all of our interviewees receive – "Where do you keep your ketchup? In the fridge, or the cupboard?".
Taken aback at first, Gamble readied himself and said; "It's kept in the cupboard, but once it's open, it's in the fridge. My wife is a chef and also a big fan of ketchup. One of her favourite foods is French Fries. I think she just uses them as an excuse to eat more ketchup". At the event of a zombie apocalypse, I said to Gamble that we'll have to come 'round to his for our condiment fix and he replied with "definitely. There's always two big bottles of ketchup there, ready and waiting".
The Walking Dead: Survival Instinct will be released on March 22 in Europe and March 19 in North America for Windows PC, Xbox 360, PlayStation 3 and Nintendo Wii U